First look at Holden aero changes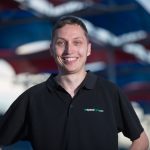 Holden Supercars teams have spent the set-up day in Pukekohe completing the installation of the recently confirmed aero package update.
The championship announced last week that all 14 ZB Commodore will undergo changes prior to this weekend's ITM Auckland SuperSprint.
Three adjustments will be made to the cars, namely the removal of the high-level brake light detail from the tailgate, the addition of a gurney to the rear wing endplates along the trailing edge and the extension of the front undertray.
With the cars only recently arrived in New Zealand, teams have been busily preparing the ZB Commodores including the application of the new gurney flaps placed along the edge of the rear wing.
This change in addition to the removal of the rear windscreen brake light detail and an extended front undertray is designed to shift the downforce balance to the rear, which will in turn create more drag, according to Penrite Racing CEO Barry Ryan.
Ryan admits he is unsure just how the changes will affect the cars, but believes the tweaks will give teams more confidence heading into next month's Supercheap Auto Bathurst 1000.
"The homologation team (Triple Eight Race Engineering) knows a lot of about it (the changes); we unfortunately don't know too much about it," Ryan told Speedcafe.com.
"We have got to guess at what we think it might do and go out like it hasn't happened and see if the balance changes.
"It is a minor tweak but it is one in the right direction from what we have estimated.
"The best thing is Supercars have done their own CFD on it so it is not like it's the Holden team has gone 'we need to do this to our car'.
"Supercars have recognised that (these aero changes) is more in line with the other cars on the grid.
"The front undertray is minimal, it is not massive, it is more to help balance out what has happened at the rear.
"I think overall there should be a gain in downforce but also a gain in drag. We are lucky that we have got a pretty good engine so drag shouldn't be a real issue.
"It is good timing before Bathurst because it was going to be a bit scary watching the six Mustangs. If this makes a difference hopefully we can go in there with more confidence.
"We will get an idea of how it works here in New Zealand."
The tweaked Holdens will roll out for the first time in opening practice on Friday.