Long-standing Supercars Commission members resign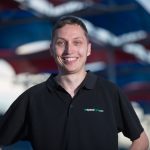 Two long term members of the Supercars Commission have resigned, Speedcafe.com has learned.
Kelly Racing team owner Todd Kelly has stood down from his position while it is understood television commentator and independent member Neil Crompton has also tendered his resignation.
The upheaval among the select body, which helps formulate racing rules, regulations and formats, has come in the week where further aero changes were made to the Holden ZB Commodore, the sixth parity adjustment across the championship so far this year.
Speedcafe.com has been informed the resignations are not solely down to the tweaks made to the Holden requested by Triple Eight, which are set to be in place for next weekend's ITM Auckland SuperSprint.
Kelly acknowledged his time serving on the Commission.
"I've been on the Commission since it started and have put a huge amount of effort and passion into the role for the best interests of the sport, all the teams and all its stakeholders," Kelly told Speedcafe.com.
"But I have reached a point where I don't think I can achieve what needs to be achieved so I need to allocate my time to other things within our own business.
"There are a lot of significant items that need to happen for the category over the next few years as it navigates its future."
Speedcafe.com has attempted to contact Crompton for comment.
However, multiple paddock sources have also told this website that the adjustments to the Holdens were not approved by the Supercars Commission per se, but by the championship's technical department acting on behalf of the Commission and in accordance with series regulations.
A statement confirming the changes read: "Following an application from Triple Eight Race Engineering (as the Holden homologation team) and acting under the delegated authority of the Commission, the Supercars Technical Department has amended the Vehicle Specification Document for the Holden ZB Commodore with:
The removal of the high-level brake light detail from the tailgate
Addition of a gurney to the rear wing endplates along the trailing edge
Extension of the front undertray"
The Supercars Commission currently includes CEO Sean Seamer, Brad Jones (Brad Jones Racing), Tim Edwards (Tickford Racing), Shane Howard (Supercars COO), Adrian Burgess (Supercars Head of Motorsport) and Ryan Story (DJR Team Penske).