De Silvestro in unusual talks with Schwerkolt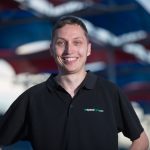 Simona De Silvestro has recently met with Team 18 owner Charlie Schwerkolt but talks were not centred around a 2020 drive with learning the piano the focus, according to the Swiss driver.
The Kelly Racing pilot is out of contract at the end of the season with her future a topic of discussion in the paddock having been linked to various teams, particularly Tickford Racing.
However there may now be a drive at Team 18 with Schwerkolt actively investigating an expansion to two cars for 2020, although the former has spoken to James Courtney, who will leave Walkinshaw Andretti United without a new deal as yet.
De Silvestro has met with the fellow Gold Coast-based Schwerkolt with the result being a chance to fulfil a long-term goal of learning the piano courtesy of lessons from Schwerkolt's daughter.
It's a hobby that the 31-year-old is hoping to use as a healthy distraction from motorsport and a mental tool to aid with preparation in between races.
"I was with Charlie, sat down with him, but it had nothing to do with Charlie. It was really about getting piano lessons from his daughter," De Silvestro told Speedcafe.com.
"It's something I've always kind of wanted to do, and every year I'm always like 'I don't really do it'.
"So this year I really committed to it and I was really focused on it the first few months and now I've slacked a little bit more so I need to get back on the piano horse.
"It's actually kind of cool because I think nowadays you have so much distraction; TV and your phone, whatever.
"So to actually to sit down and really focus on trying to figure it out, it's quite cool.
"I think the piano is quite fun at the end because you can kind of manage to put something together, it sounds pretty nice.
"I only know half of one song. I think everyone that is around me is pretty annoyed because I keep playing the same song."
New hobbies aside, De Silvestro's Supercars future remains up in the air with her Australian manager James Warburton continuing to take the lead in discussions.
Speedcafe.com understands that the driver's plans are hoped to be revealed by the end of September with the prospect of a move to Tickford thought to be beginning to fade.
While a new Supercars deal to remain in the category remains the priority, options to race abroad are also being investigated.
It is believed that De Silvestro is yet to hold talks with Kelly Racing regarding next year's plans.
"No progress. I think the situation is pretty similar to a couple of months ago," De Silvestro added.
"Up and down in pit lane I think there's a few things that are going to happen that might change a few things, but on our side it's really same old story.
"Oh I think there is a chance (to be on the Supercars grid next year).
"I have great support from Harvey Norman. I think Katie (Page, CEO at Harvey Norman) has given me a great opportunity but it also has to be the right opportunity to keep going forward. That's the big question.
"He's (Warburton) pretty busy. He's definitely a deal maker in that sense, so that's good.
"I think we're all working towards what the best situation is for me. That's the best goal, like the first goal we have. At the moment there is really nothing to say where we're at to any of it really."