Touring car young gun lands S5000 drive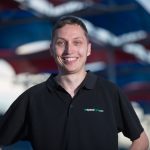 TCR Australia Series leader and Super2 driver Will Brown will join former Formula 1 race winner Rubens Barrichello and Matthew Brabham on the grid for the inaugural S5000 race at Sandown next month.
The young gun will run in an Eggleston Motorsport prepared S5000 V8 powered single-seater, becoming the third driver confirmed for the category's maiden event at the Victorian circuit from September 20-22.
Earlier this month Barrichello was confirmed for a one-off drive before Brabham was also announced this week, with up to 14 cars expected on the grid for the landmark round.
Brown has spent the last three seasons racing in solely in touring cars having raced in Super2 with Eggleston Motorsport before dovetailing this drive with a TCR Australia effort that sees him leading the series.
However, the 21-year-old from Toowoomba started his career in single seaters winning the 2016 Australian Formula 4 Championship and finishing runner-up in the Australian Formula Ford Series.
He also won the Toyota 86 Racing Series in the same season.
"It's such a thrill to be confirmed to start in the first-ever S5000 race at Sandown," said Brown, who will also join Penrite Racing for the Pirtek Enduro Cup alongside Anton De Pasquale.
"I've been watching these cars doing demonstrations at the TCR events this year and I've been hanging off the fence, keen to have a drive.
"They sound awesome, they look great and they are so fast. These cars are going to be amazing at Sandown and we are going to be doing our best to be at the front of the field and enjoy the experience.
"And I couldn't think of doing it with any other team than Eggleston Motorsport. They have looked after me really well in the Super2 Series, so the good thing is I don't need to learn the people, all I need to do is learn the car."
Meanwhile, Eggleston Motorsport is eagerly anticipating the opportunity to dabble in the new single seater class.
"We are really excited to be involved in the inaugural round of the S5000 series at Sandown and even better that we get to make our debut with Will who is a big part of our EMS family," said team boss Rachael Eggleston.
"Will has a lot of experience in open wheelers and has proven he can pretty much drive any type of car so we are hopeful of a strong result.
"It looks like there is going to be some seriously good steerers at the opening round so we are under no illusions the competition will be fierce – but we really look forward to a new challenge.
"We have seen the car in action during the year doing some demonstration laps and the sound is incredible. They truly are a work of art."
Preparations for the inaugural S5000 round are building highlighted by a test/evaluation day featuring five cars at Phillip Island this week.