Drivers believe Altima aero tweak 'a positive change'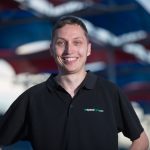 A revised aero package for the Nissan Altima has been described as a positive change by Kelly Racing drivers after last weekend's OTR SuperSprint.
The Braeside outfit raced its updated Altima for the first time at The Bend Motorsport Park after Supercars ratified changes to the bootlid Gurney flap and a trimmed undertray designed to shift the car's aero balance rearwards.
This season the Altima, now into its seventh year in the series, had become difficult to tune after undergoing an aero re-homologation prior to the season.
Last weekend offered the team an opportunity to see how the car stacks up in racing conditions for the first time.
Overall the car was deemed easier to tune across Kelly Racing's four entries.
Heimgartner led the team, qualifying an impressive sixth for Race 21 and coming home fifth, before a pit stop blunder cost him a likely top 10 in Race 22.
The New Zealander is adamant that the Altima is a better package following the aero change.
"Definitely (better). I feel like with the old aero package, we were very limited with how far we could get, so I could sort of qualify in the top 10 but I was always struggling to hold onto it, whereas now, if we can get it right, we're in the top five, and it's really good to race with," Heimgartner told Speedcafe.com.
"It holds onto its tyres just as good as any other car and I can really race it, so we've made a big step in that way, so we'll just have to wait for the next few rounds.
"This track's very different to the ones we normally race at, so it's really hard to understand fully what it's going to be like, but (at) Pukekohe we'll get a bit of an idea.
"I think it's been a positive change; the car before wouldn't have been very good at Sandown, Bathurst, all those sort of places, but we've made it a bit more tuneable now."
The views have been echoed by Simona De Silvestro, who enjoyed a career best Armor All Qualifying performance at The Bend by securing 13th on the grid on the Saturday.
Unfortunately the Swiss driver was unable to convert in the race after being caught up in a multiple car crash on the opening lap.
De Silvestro's fortunes didn't improve on a Sunday which included a clash with team-mate Heimgartner.
"It does (feel better). I think it's good and I think just in set-up things that it's more what I like and that's why I can extract the time in qualifying now, which is good," De Silvestro told Speedcafe.com.
"But in the race I felt like we're maybe a little stronger in a different way.
"So it's a tiny little thing but I think we'll get there.
"The next few rounds are tracks that I really like and I think it gives us a bit of confidence just knowing what we've got and just being able to put it together in quali."
The team will now head to New Zealand for the ITM Auckland SuperSprint from September 13-15.