Courtney claims 'no 2020 contract ready to sign'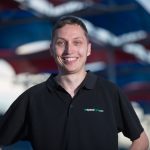 James Courtney claims he doesn't have a new 2020 Supercars deal ready to sign, describing his decision to leave Walkinshaw Andretti United as a 'pull the chute and see what comes up' moment.
The 2010 Supercars champion confirmed earlier this week that he will leave the Clayton team at the end of the year following nine seasons at the operation.
Courtney maintains his future is yet to be sorted although a statement on behalf of the driver announcing his WAU exit said he made the difficult call to leave after 'a yet-to-be-disclosed opportunity was presented to him for the 2020 Virgin Australia Supercars Championship and beyond'.
The 39-year-old has held talks with Team 18 owner Charlie Schwerkolt regarding the squad possible expansion to two cars for next season.
He also told Speedcafe.com at The Bend last weekend that he was considering all his options before intimating that his future would become clearer soon.
Speaking following the decision to leave WAU, the former Supercars champion says he doesn't have a deal yet but has plenty of options with 'quite a bit of potential' bubbling away.
"I decided to pull the chute and see what comes up," Courtney told Speedcafe.com.
"There isn't anything that's there ready to go, so it's a big call walking away from something before you've got something lined up.
"But, there's prospects and some things that I think have got quite a bit of potential but there's not a contract sitting there for me to sign or anything.
"I'm still a long way from anything like that. Yes, (there are) a few things bubbling away.
"I just thought it was time to move on and see what's around and what can happen next.
"It was really, really tough (call to leave), but those (great) relationships (within the team) probably kept me there longer and it's also equally made it harder to part."
Asked if he was confident he would be on the grid next year, he replied, "Yeah, I'd like to think so.
"I'm not concerned, I don't think I'll be just left on the side.
"I think somebody will come up in some way, shape or form.
"It may just be an enduro drive or do something within the media or something. I think I'll be involved some way."
The out of contract star says there was an option for him to stay at WAU for next year with the team expected to sign Tickford Racing star Chaz Mostert.
However, Courtney says the move to walk away from 'a guaranteed thing' shows the desire to win is still burning bright.
"A lot of people thought that I would never actually leave and I would just stay where it was cushy and I was comfortable," he added.
"I think for me personally to walk away from it shows publicly that I am committed.
"I do want to win. I'm willing to walk away from a guaranteed thing and so much history, to sacrifice that to win.
"I've still got a crazy amount of fight in me and I really want to win.
"I'm five years younger than Craig (Lowndes) and he only retired last year. I feel like I've got a lot more racing ahead of me, a lot more I can give.
"I think I'm probably a better driver package than what I was when we won the championship.
"I've just got to make sure that I've got all the elements where I need them to be, to be able to deliver that again. That's a big part of trying to work out at the moment.
"I'm hoping once it's (my next move) done or if it does happen, we'll go from there."
Courtney admits that should his full-time plans fail to eventuate he would consider a plum enduro drive with a top team.
"Well, like I said, I want to win. I won't to do something that is a half-arsed method that won't deliver wins," he stated.
"I'm not here to make up the numbers, that's a big part of why we're moving.
"I decided to make the decision I did. It would be something that I think is capable of winning and go from there. It might just be that (a top enduro drive)."