Super Trucks added to Gold Coast 600 bill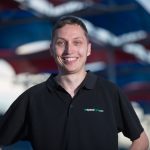 Stadium Super Trucks will return to competition in Australia at October's Vodafone Gold Coast 600.
Supercars has confirmed the popular series will join the support bill at the Surfers Paradise event from October 25-27.
Its return has been tipped since the Confederation of Australian Motor Sport (CAMS) elected last week to lift a ban placed on the series last year due to fears over safety.
The series has previously raced on the Gold Coast and was set to feature last year before it was removed from the schedule due to the ban.
A new agreement between CAMS and Stadium Super Trucks has been reached with the high flying trucks to feature redesigned wheels and revised body panel tethering while racing over lowered ramps.
The series, owned by renowned American racer Robby Gordon, will feature on the Supercars program next year with an appearance already locked in at the Superloop Adelaide 500 (February 20-23).
"The fan-favourite Super Stadium Trucks will return to the Gold Coast this October and feature events in 2020 as part of the support category line-up which we will finalise in the coming weeks," said Supercars CEO Sean Seamer.
Stadium Super Trucks will join a packed Gold Coast support bill including the ECB SuperUtes Series, Porsche Payce Carrera Cup Australia, Aussie Racing Cars and Australian GT Championship.