'Full steam ahead' for 2020 Gold Coast 600 night race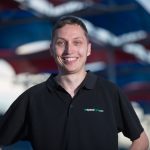 Supercars CEO Sean Seamer says plans to reinvigorate the Gold Coast 600 by transforming it into a night racing spectacular are "full steam ahead" for next year.
The championship, along with Tourism Events Queensland, revealed a major revamp in Surfers Paradise today which will see the Gold Coast host a first ever touring car street race under lights.
It is expected that Supercars will run under lights on Friday and Saturday night with a twilight race planned for the Sunday of the October 30-November 1 event on a revised 14 round 2020 calendar.
While the announcement confirmed a new five-year government funding deal for the Gold Coast 600 and Townsville 400, it failed to lock in the night race for next year. 
However, Seamer fully expects Supercars racing under lights at the venue in October 2020 with community consultation discussions well underway with residents and thought not to hamper the championship's night race vision.
Plans to light up the 2.98km circuit are well advanced, headed up by design and engineering firm iEDM.
The company plans to construct almost 500 lighting towers at five metre intervals that can be free standing and integrated into buildings. They will feature special Philips LED panels to light the venue.
"When I first started (as Supercars CEO), one of the things I was told that I will have to figure out is how to reinvigorate the Gold Coast event as it needs a shot in the arm, and I think this is exactly what we wanted to do," Seamer told Speedcafe.com.
"We are full steam ahead, we have done all of the planning, iEDM have done the lighting plan and layout plan and sourced the lights.
"We just need to go through a community consultation now and make sure everybody is happy with the scheduling, but we will be night racing here next year.   
"As a process, we will have a full-time community manager here anyway. 
"They have already started discussions with residents off the back of things today and we will work through that and make sure we are doing the right thing by the residents and get the schedule locked down as a soon as possible."
Previous Supercars night races at Sydney Motorsport Park and Perth's Barbagallo Wanneroo Raceway have seen the category undertake several lighting tests before the event to ensure light levels are sufficient for racing and broadcast.
IEDM director Liam Howe has confirmed his firm will conduct robust tests prior to the race at other venues with testing restricted due to the Gold Coast 600 street circuit's temporary nature. 
"We will test it in a couple of ways through our CAD design but we will have the time between now and the 2020 event to get out and test some of the lighting and how we are going to install the towers," Howe told Speedcafe.com.
"We will go through pretty robust tests. 
"We love these special projects like this which is something that hasn't been done before in Australia and for a Supercars event on a street circuit. 
"It is a really complex design process but it is going to be fun."
Supercars is set to host three night events next year with the Pirtek Perth SuperNight to be held in May and the return of the Sydney SuperNight in August.