Stadium Super Trucks to feature at 2020 Adelaide 500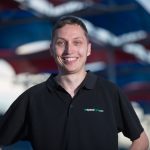 Stadium Super Trucks will feature on the support bill at next year's Superloop Adelaide 500.
Event organisers have confirmed the category will return to the Adelaide 500 (February 20-23) after the Confederation of Australian Motor Sport reached a deal to lift a ban on the series.
The popular category first raced in Australia at the 2015 event but has been unable to compete in the country's biggest motorsport meetings after being banned by CAMS on safety grounds.
Last week CAMS and the Robby Gordon-owned Stadium Super Trucks have struck a new agreement to bring them back to Australia with the Adelaide 500 the series' first confirmed event.
The new deal will see the trucks run with redesigned wheels and revised bodywork tethering while racing over lowered jumps.
Stadium Super Trucks is the first support category confirmed for next year's event.
"We are committed to putting on a show, and securing the SSTs is just one of many exceptional support categories that we're excited to host during the event in 2020," said Adelaide 500 General Manager Alistair MacDonald.
"The announcement coincides with the release of tickets on sale to the general public, so we are encouraging all fans to jump online and secure their seats for the 2020 event."
Stadium Super Truck representative Nathan Cayzer added: "We have worked really hard to have SST return back to racing in Australia under the CAMS banner, and to be able to race again is exciting.
"We look forward to bringing the series back to Adelaide once again and showcasing our thrill-seeking sport in front of South Australians."
Stadium Super Trucks will contest two practice sessions on the Thursday followed by qualifying on Friday and a yet to be announced number of races over Saturday and Sunday.
South Australia Minister for Trade, Tourism and Investment, David Ridgway says Stadium Super Trucks will prove a huge drawcard for the state.
"The Superloop Adelaide 500 is a world-class motorsport event and since its inception, the race has injected more than $600 million into our state's economy and created hundreds of jobs," said Ridgway.
"We look forward to attracting the attention of the country's motorsport enthusiasts and once again staging an event which sees flow-on benefits for the city's hotels, bars, restaurants and retailers."
Speedcafe.com understands that the Stadium Super Trucks series is closing in on a return to Australia this year with an appearance at the Vodafone Gold Coast 600 in October.