Tickford to focus on fixing airbox issues after 'one that got away'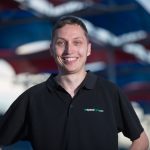 Tickford Racing boss Tim Edwards says his team must get on top of its airbox issues after admitting they cost Will Davison a possible victory in Race 22.
Davison put himself in a strong position to end a personal drought that stretches back to the 2016  Supercheap Auto Bathurst 1000 having led the 41 lap heat until the final round of pit stops.
The 23Red Racing Mustang managed to hold off championship leader and pacesetter Scott McLaughlin in the early laps and after the first round of pit stops.
However, Davison's victory hopes were ultimately dashed when he suffered a drop in power due to an airbox issue while coming into pit lane for a second stop to cover off McLaughlin.
A loss of two seconds attributed to the gremlin saw Davison rejoin behind McLaughlin where he remained until the chequered flag.
Tickford has attempted to resolve the airbox issues which have cropped up across its Mustang entries at previous rounds but Edwards admits that more work is required to prevent further cruel blows.
"It has (cost us the win). It cost us one or two seconds, that's all it took," Edwards told Speedcafe.com.
"As the percentage of the duration of the race, it's insignificant, but it's so significant because we were so close.
"We're constantly looking at it. If we were magicians and we could fix it, we would fix it.
"Clearly it's the design of our airbox or our trumpets or something in there just seems to catch us on exactly the time we don't want it, just as they enter pit lane, have a little pop.
"It's not really an airbox fire, it's a bit of a hiccup, and you lose a second or two, but you can't afford to lose a second or two.
"We've been constantly working on it for the last six months, so it's very frustrating that we haven't been able to bottom it out yet.
"Our competitors in the pit lane aren't having it so we've just got to get on top of it.
"We've made a lot of changes to our engine over the last six to 12 months.
"That's all been well documented but sometimes when you make changes for one thing to try and get more power or driveability or whatever it is you're chasing, there's consequences and clearly we've tripped somewhere."
While disappointed to see a possible victory slip away from its grasp, Edwards was pleased by the progress his team has made.
In addition to Davison's second place finish, Chaz Mostert came home in third after a second in Saturday's race, which has seen the Supercheap Auto backed driver climb to second in the championship standings.
"It's the one that got away, again. Look, it was a good result, I'm pleased for the team, all the hard work we're just starting to get podiums consistently now," he added.
"But Scotty Mac's still got that little edge on us so we've just got to keep chipping away."
Reflecting on the result, Davison was stoked to claim his second podium of the season despite having come so close to a win.
"We had a great car, so yeah (it's) really motivating at the moment," said Davison, who is sitting ninth in the standings.
"I'm stoked, absolutely stoked to be up here but to be honest to lead a couple of stints and then having just little drama in the last stop, it would have been really, really close.
"(It's) just mixed emotions but really sweet to race with those guys (at the front), it's such a great car."