Courtney exploring all options for 2020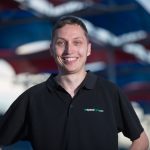 James Courtney is exploring all his options for 2020 including a move to Team 18 with his Supercars future hopefully becoming 'a little bit clearer' after this weekend.
The out of contract 2010 champion is among the key players in the silly season with his position at Walkinshaw Andretti United uncertain beyond the end of the current season.
It has been widely expected that Chaz Mostert will join the Holden squad next year, prompting a reshuffle of the driver line-up, which could see Courtney and team-mate Scott Pye searching for new homes.
Courtney's future was thrust into the spotlight on Friday after Charlie Schwerkolt confirmed talks had been held with the 39-year-old regarding possible expansion to two cars next year.
Such a move would see the Gold Coast-based driver reunite with Schwerkolt, who he drove for in 2010 when he claimed his only Supercars title to date at Dick Johnson Racing.
Courtney says he is yet to sit down with his current employers regarding 2020 given the team's focus on finalising a Supercheap Auto Bathurst 1000 wildcard for Alexander Rossi and James Hinchcliffe.
However, he has confirmed that has already been investigating his options including a possible move to Team 18, which currently runs a latest specification Triple Eight built ZB Commodore.
"I still don't know what I'm doing. We're still working out and seeing everything that's going on," Courtney told Speedcafe.com.
"I think after this weekend maybe it might be a little bit clearer but look, Charles is a mate, had a lot of success with him previously, he's running a good ship.
"I'm interested in everything, every option, I wouldn't be doing my due diligence if I didn't explore all the options, so I'm sure they're all doing the same, as every team here that is looking for drivers is doing, and as all the other drivers are doing, so everyone's, of course, seeing what's about.
"Just with our current team, or with WAU, they've just been working really hard getting the wildcard team sorted and announced and funding right and all that sort of stuff.
"They've sort of been flat-out doing all that, and we'll see what goes on from here."
Asked if the prospect of driving a Triple Eight Commodore at Team 18 would excite him, he replied, "Look, I've had a lot of success, won a championship with a Triple Eight car previously, and Roland (Dane) runs not only a good race team but a great engineering business, so I think probably if you're going to pick anything, Scott's Penske thing looks pretty good to me."
While his future remains uncertain, Courtney is determined to continue as a full-timer in Supercars and reminded the paddock of his skills with a hard fought drive to 10th in Saturday's Race 21 at The Bend Motorsport Park.
"I'm massively driven, I have no interest in packing that up yet," he declared.
"You saw how hard I fight in the races, I'm still in amongst it and want to win, I think I've got the speed and determination still.
"I'm probably a more rounded driver person than what I was when I won the championship, so I don't think it's any drama."