Whincup 'everything' wrong as T8 struggles continue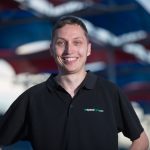 Jamie Whincup declared 'everything' is wrong with his car as Triple Eight's struggles for outright pace were further highlighted during a messy Practice 3 at the OTR SuperSprint.
The factory Holden squad has been unable to replicate the form of last year at The Bend, with Whincup ending final practice in 24th while team-mate Shane van Gisbergen was only 19th after several off-track excursions.
Triple Eight's struggles are in stark contrast to last year when they dominated the inaugural visit to the circuit, completing front row lockouts for both races followed by victories shared between the drivers.
Whincup, who claimed both Armor All Pole Positions last year, was more than two seconds shy of Practice 3 pace-setter Scott McLaughlin.
The seven-time champion felt there were issues all over his car but is hanging onto hope that his team can make changes ahead of qualifying.
"Not as bad as last (position), but as I said yesterday, we're not much further up than in between the 10 and the 20," said Whincup following the session.
"We're not in a good place. There's no secrets. We've got a lot of work to do. We're just trying to find a balance and grip in the car.
"I've got to say everything (is wrong with the car).
"(I) don't have front, don't have rear, we just don't have overall grip as well.
"We've got a bit to do. There is hope we can still tune it up for qualifying but we need to make the right calls – we need to make educated guesses and make the right calls in the next hour or so."
Van Gisbergen was only marginally faster in 20th after a wild session that saw the 2016 champion endure four off-track excursions.
He finally hooked up a lap late in the running to move 1.6s adrift of McLaughlin which prompted the Kiwi to quip on the radio "Yay! I did a lap".
Both Triple Eight Holdens missed the out on the Top 10 in Friday's Practice 2, meaning they will have to run in the first part of Armor All Qualifying at 1235 local time/1305 AEST.