Team 18 confirms interest in two car expansion, Courtney talks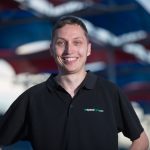 Team 18 is investigating expanding to two cars next year with team owner Charlie Schwerkolt confirming a brief discussion has even been held with James Courtney about the concept.
The single car Supercars operation has been linked to an expansion for 2020 with Schwerkolt, previously tight-lipped on the matter, now confirming he is seriously considering the prospect for next year.
Schwerkolt has run a single car operation out of Melbourne since 2016 and this year has invested in the latest Triple Eight ZB Commodore for Mark Winterbottom, with the team also benefitting from a technical alliance with the factory Holden outfit.
However, the long term team owner admits that a two car model has its advantages and is now assessing options for next year.
"Look, Supercars, as we know, is a two-car model, really," said Schwerkolt in a Supercars team owners press conference at the OTR SuperSprint.
"I've been sharing the pit bay, pit boom for many years now, so it's a possibility if it all stacks up.
"I'm looking at that option, for sure.
"When the numbers stack up, when the sponsors come onboard, when it all… could be a few months. I'm not sure yet, but it's work in progress, for sure.
Talk regarding the team expanding has already led to speculation that Schwerkolt could link up with Courtney, having worked together when the former was a REC owner at Dick Johnson Racing in 2010, resulting in a championship success.
Schwerkolt has confirmed that a brief discussion has been held with Courtney, who is facing an uncertain future with the experienced driver out of contract at Walkinshaw Andretti United (WAU).
WAU is tipped to sign Chaz Mostert next year while Courtney's current team-mate Scott Pye is also out of contract.
"Anyone you've been winning a championship with, and all the people up and down the pit lane that I've been associated with winning that championship, I'm still mates with, so I am still a mate with James," Schwerkolt added.
"We've had a very, very brief discussion, I'm not sure where he's up to at the moment or anything like that, but obviously I've got to get all my ducks in a row first with money coming in the door and everything, and there's quite a few drivers out there at the moment.
"I'm not really sure."
Team 18 would need to purchase a second REC to make the move to two cars next season, an option that Schwerkolt believes wouldn't be 'a huge problem'.
Two RECs were handed back last year, bringing the field down to 24 full-time entries at present.
"I haven't really got into the REC situation that deep yet," he said.
"I think they could potentially release the other two if no one's going to sell any; I'm not really sure.
"I've got to get the money coming in the door before buying a REC, but I don't think it'll be a huge problem.
"I'm not too sure, really, but there are two sitting there now so I'm sure the sport would want another car racing if it's a good thing for the sport to have an extra car."
The team has also confirmed that it will remain in Melbourne next year amid talk that there could be operation set up out of Sydney in 2020.
"Yes, that is correct. We've got a great set-up at the back of Waverley Forklifts there and, no, we're staying in Melbourne," Schwerkolt added.
Team 18 will be required to have its plans in place before Supercars' 2020 entry deadline in October.