TCR TV talks not affected by Warburton's Seven role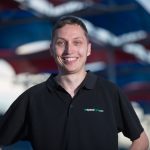 The Australian Racing Group is talking to various broadcasters for 2020 but claims it is premature to draw any links to Seven following the network's appointment of board member James Warburton.
ARG inked a partnership with SBS this year to broadcast the inaugural seven round TCR Australia series, becoming the only circuit racing category in the country with a full live free-to-air deal.
While happy with the platform SBS provides, the organisation is investigating its broadcast partner options for next year, which will coincide with an expansion of its motorsport portfolio, having recently acquired Touring Car Masters, the Bathurst 6 Hour, and TCR New Zealand.
It is also in the mix to secure the rights to host an international TCR meeting at Bathurst should it win a bid to host a fifth event at Mount Panorama.
Obvious links have already been drawn to Seven given last Friday's news that ARG non executive director Warburton has taken up the CEO position at Seven West Media.
The former Supercars CEO, who held a similar role at Network 10, was key in delivering Supercars' landmark $241 million television rights deal which is due to expire at the end of next year.
However, ARG director Matt Braid says its discussions with broadcasters are unaffected by Warburton's new role.
"I think everyone's very quick to draw that conclusion, I think from the point of view of our discussions, and obviously what James is doing now, they need to be independent," Braid told Speedcafe.com.
"We've had a really good relationship with SBS this year, and it's no secret we are talking to various broadcasters and SBS, about where to next in as far as 2020, and what might be possible.
"That's all part of it, but I think it would be scuttlebutt at the moment, to link it directly between us and James at this stage."
Warburton motorsport roles unaffected amid Seven move
Following his appointment at Seven, Warburton has confirmed to Speedcafe.com that his existing roles with ARG, Supercars driver Simona De Silvestro and the Shopper Media Group will remain unaffected.
The media specialist joined ARG in March this year to assist the development of TCR Australia and S5000 which is expected to continue according to Braid.
"James is always going to be a non-executive director of ARG, that was obviously the original mandate, and that would obviously free him up to do other things which he has been doing," added Braid.
"The Seven announcement and the job is a fantastic one for him, but it was expected that he would be doing his own thing as well as still being a director of ARG, and assisting us where possible too.
"It's good all round to have him involved from day one, and obviously with what he's achieved now personally at Seven, that's great for him and we wish him the best."
Warburton is also set continue as De Silvestro's Australian manager having taken on the role recently to help assist the Swiss driver secure new contract to remain in the category.
It is understood that the pair have been investigating options at Tickford Racing for 2020.
On top of those roles, the former Supercars boss will continue his non executive director position at advertising firm Shopper Media Group.