Mustang centre of gravity changes explained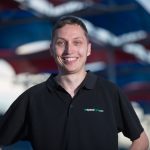 Tickford Racing has moved to explain the new centre of gravity changes it believes are 'good for the sport' that will be debuted at this weekend's Century Batteries Ipswich SuperSprint.
Supercars has mandated changes to the Ford, Holden and Nissan models which aims to lower the overall centre of gravity while maintaining the current parity balance between cars.
To achieve this, nine of the 28kg of lead ballast placed in the roof of the Mustang following Supercars centre of gravity test in March have been repositioned to the floor of the car.
Meanwhile, composite header rails at the front and rear screens will now be replaced by the car's factory steel component to ensure centre of gravity parity.
THE FINAL RACE OF THE 2023 REPCO SUPERCARS CHAMPIONSHIP ON ONE OF THE WORLD'S BEST STREET CIRCUITS. GO ALL IN AT THE VAILO ADELAIDE 500, CLICK HERE TO BUY TICKETS
For Holden teams all 6.8kg of the ballast placed in the roof has been moved to the floor, while the Nissan has had the ballast on the top of its engine shifted to the sump.
The decision has already been labelled 'smart' by Triple Eight team manager Mark Dutton, while Tickford boss Tim Edwards says his team is 'quite happy' with the change. 
"As you know Supercars have made a recent adjustment to the parity with the centre of gravity of our cars and there has been a lot of controversy this year, but in actual fact we are quite happy with the changes made," said Edwards.
"It is actually a really good thing for the sport because now we have got instead of 20 cars on the grid having ballast up in the roof we will only have the six Mustangs, so I think that is a positive for the sport and as a team we are quite happy with the change."  
Rival Mustang team Shell V-Power Racing ran with the new CoG weight distribution in place for the first time at last week's in-season test at Queensland Raceway.
Championship leader Scott McLaughlin admitted he didn't notice a change with regards to the car's feel, but says it is more aesthetically pleasing inside the car.    
"I couldn't feel a thing. I said to the guys, it looks better," he said.
Watch Tickford boss Tim Edwards explain the Mustang centre of gravity changes 
VIDEO: Penrite Racing's Alistair McVean talks through the centre of gravity changes to the Holden