De Pasquale allowing Morris to steer 2020 future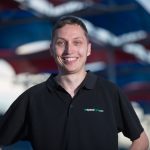 Out of contract Anton De Pasquale is not concerning himself with the silly season chat and is relying on manager Paul Morris to guide his 2020 future.
The Penrite Racing driver is on the market with his future yet to be secured following an impressive second year in the Supercars Championship at the Melbourne squad.
De Pasquale is among a crop of young guns tipped to be a future star in the category and has been catching the attention of rival teams.
After showing impressive one lap speed in his rookie year, the 23-year-old has worked on his race craft this season which has yielded a maiden podium at Phillip Island and an impressive fourth at Townsville last week.      
Erebus Motorsport CEO Barry Ryan told Speedcafe.com at the Watpac Townsville 400 that he expects the re-signing of De Pasquale and off contract team-mate David Reynolds to be a formality.
While happy at Erebus, De Pasquale could be faced with options for 2020 with top seats potentially opening up at Tickford Racing and Walkinshaw Andretti United (WAU).
The silly season is set to be shaken up following Chaz Mostert's expected move to WAU.
Although a factor in the silly season, De Pasquale remains focused on his driving with long time supporter and former Supercars driver Morris charged to look after the young gun's future.
"I'm not too involved, I'm leaving it up to Paul (Morris), he's kind of steering that ship for me," De Pasquale told Speedcafe.com.
"I'm just sort of trying to get the best results I can, and let all the stuff take care of itself and put myself in the best position.
"But yeah, I'm not getting too involved, just sort of doing what I can here, and then let him deal with all the business side of things.
"We're going alright (here at Erebus) we've learned a lot, we're taking steps forward, so I'm not really getting involved in talking about all that stuff with Barry (Ryan) and Betty (Klimenko – team owner) and everything, so just sort of going through it. 
"There is still a while to go before the end of the year, but all that stuff sort of heats up this time of year, so there's a lot of chat, a lot of chat going around."
De Pasquale is not stressed about his future knowing that he has already impressed enough to earn a spot on the grid for 2020 and is enjoying being talked about in the driver market.
"It's not too stressful for me, I believe I've done enough to keep myself well in the game, and I've taken a big step forward and cemented myself as what I believe to be one of the top bunch of drivers," he added.
"I'm kind of one of the names that gets talked in the background a bit, there was Chaz (Mostert) and all that taking the big headlines. 
"But yeah, obviously the more chatter, the more involved in that kind of stuff you are, means you're probably doing something right on the track, so it's a good thing to hear people talking about you, in a good way. 
"I'm not going to get too involved in this and will try to get out there, go good and try and get close to the front."
De Pasquale sits 11th in the standings heading into the Century Batteries Ipswich SuperSprint from July 26-28.