Reynolds: McLaughlin needs to be 'man enough' to deal with clashes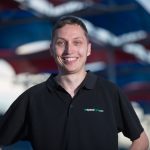 David Reynolds has laid the blame firmly on Scott McLaughlin after an opening lap clash at Townsville sparked a heated post-race exchange.
The pair made contact while fighting over second position as a fast starting Reynolds attempted to dive underneath McLaughlin on the run to Turn 2 in a rain affected Race 18.
Both cars sustained damage with McLaughlin's Shell Mustang picking up a puncture, while Reynolds' Penrite Racing Commodore required more significant repairs, due to a broken steering arm that put him multiple laps down.
McLaughlin, who also went a lap down during the race, fought back to finish 11th while Reynolds came home in 20th position.
Speaking after the race McLaughlin labelled Reynolds a 'desperado' and was clearly angered by the incidents which triggered two post-race confrontations at the Erebus transporter.
Reynolds maintains that McLaughlin was at fault even after the championship leader argued until he was 'black and blue in the face' behind closed doors.
The Erebus driver suggested that clashes are part of racing. 
"I tried to pass him, he moved a bit right and we made contact and that's all she wrote," Reynolds told Speedcafe.com.
"If he didn't move right we wouldn't have crashed. It's just one of those things.
"He came down with the footage; he came see me twice trying to argue black and blue in the face that he's in the right and I'm in the wrong, I know what I saw, you can see from the footage.
"It happens when you're racing. If I'm not going to pass him and just going to drive behind him, like it's a shit sport, boring as f***.
"It's disappointing for both of us; you don't want to finish laps down or have incidents like that, but when you're going for position at the start, it's going to happen.
"If you pass some people at any time you can crash, it's just a part of racing. 
"It's just a part of the sport man and you've got to deal with it; if you're not man enough to deal with it then I don't think you should be racing."
The incident rounded out a bittersweet weekend for Reynolds that began with a first Armor All Pole Position for the season in Saturday's Qualifying for Race 17, only for a botched pit stop see him drop to sixth.
CLICK HERE for McLaughlin's comments.