Reynolds takes heat off crew after fumbled stop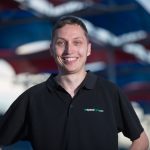 Penrite Racing's David Reynolds has taken the heat off his pit crew after labelling a costly fumbled pit stop in Race 17 at Townsville as one of the factors of 'team sport'.
Reynolds led the opening 21 laps before making his first stop but its was his final trip to the pits that saw his hopes to contend for at least a podium come apart.
After pitting from second behind Scott McLaughlin on Lap 43, his crew struggled with a cross-threaded wheel nut on the left-rear, costing Reynolds valuable time and leaving him to rejoin in fifth.
Having struggled to replicate the pace he set in the opening stint, Reynolds was passed by the hard charging Shane Van Gisbergen and ended up in sixth at the chequered flag.
However, the pit stop fumble left team CEO Barry Ryan fuming, suggesting his team members require more training having just recently purchased new wheel nuts and rims to avoid a repeat of previous issues in races.
"We can only train the guys so much before we have to replace them and find someone that can do the job better," said Ryan on the telecast moments after the incident.
"We just spent a lot of money on brand-new wheel nuts, brand-new rims, everything, because we were told we needed new stuff.
"So I don't know. It's just education, it's all it's got to be. So we've got to just educate our guys better."
Although frustrated, Reynolds was somewhat calmer about the situation when speaking after the race, even sharing some of the blame.
"They (the crew) try as hard as they can, sometimes they get it right, sometimes they get it wrong," said Reynolds.
"That's just the way it is. Sometimes it's not even their fault, it could be a wheel nut tolerance thing and the heat may have expanded it.
"I don't like blaming anyone for anything, I'm not that sort of person. If anything, I blame myself. I think 'I probably didn't put it on the marks'.
"It's not a good feeling (when you are sitting in the car).
"I think they went and got another tyre. It felt like Ferrari in the F1 race.
"That happens, though. It's part of team sport, it's what I like.
"Some days it goes really good for you, some days it goes terribly. As long as it evens out over the year, it's all good. It just happens to me when I'm going good."
While the drama hampered Reynolds' race, he believes third was the best he could achieve had the second stop gone according to plan.
"Our car wasn't up to it. My first stint was really good, I was really happy with that," said Reynolds.
"Then I'm not sure what happened in the second and third stints. The pace wasn't there.
"We'll have look at the car, maybe something was busted.
"I'm not really sure. It just didn't feel as good. I had a bad pit stop, cross-threaded a wheel nut and probably lost 10 seconds, which is not ideal. Other than that, maybe I could have been third.
"McLaughlin passed me like he was on soft tyres and I was on hard tyres, so there's nothing you can do about that.
"I think (Jamie) Whincup had my measure.
"I maybe could have got (Chaz) Mostert. He had pace, but the last 10 laps of each stint he faded a bit.
"So maybe if I'd popped out behind him I could have got him. I would have been further up."
While Reynolds came home sixth, the team's sister car of Anton De Pasquale finished in 11th having started from 12th on the grid.