Warburton to help De Silvestro secure 'best possible place' on grid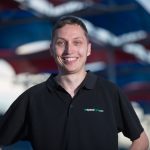 Simona De Silvestro has enlisted former Supercars boss James Warburton to help put her in the 'best possible place' on the 2020 Supercars grid.
De Silvestro is another key player in the silly season with the Swiss ace among a group of drivers looking to secure a new deal for next year, with Tickford Racing understood to be a possible option.
The 30-year-old has already tabled a desire to continue in Supercars, stating that a new contract is a high on the priority list after admitting she has unfinished business in the championship.
To help unlock her potential in the category, De Silvestro has once again teamed up with Warburton, who was instrumental in bringing the former IndyCar driver to the series for 2017, to help find a competitive package for 2020.
That agreement saw De Silvestro sign an unusual three-year deal with Supercars itself, retailer Harvey Norman, which appears likely to continue its backing for next year, and Kelly Racing.
According to De Silvestro, Warburton, who now works for TCR Australia promoter the Australian Racing Group, will now act as her manager for Australian affairs.
"It's something that kind of came along in the last few weeks," De Silvestro told Speedcafe.com of the decision to work with Warburton.
"It's great to have great people around you and want you to be successful and I think that's the big thing, so for me it's good to have people help me in that department.
"He's been pretty instrumental anyway in my career so far here in Australia so it's really cool to kind of have him onboard and kind of work out a few things for myself I guess.
"I think there's just a lot of things happening (in the driver market).
"It's definitely end of the contract for me. I just want to be in the best place possible; if it's here, if it's anywhere, I've just got to be in the best position I can be where I can be really successful.
"Hopefully things will start to come into place in general; at the moment there's nothing really decided or anything, it's just a lot of checking the locations out.
"There's good teams out there and good cars out there. We'll see. At the moment we're just looking at what opportunity could come."
Having played a huge part in bringing De Silvestro to Australia, Warburton says he feels responsible in helping the driver continue in Supercars.
"Simona asked me to assist her with the next deal," Warburton told Speedcafe.com.
"I had no hesitation given the triparted agreement we originally put together with Harvey Norman, Supercars and Simona and the passion for pathways and women in sport.
"I feel responsible to see it continue and flourish, plus Simona and her family are genuinely wonderful people."
While Tickford Racing has emerged as a potential option for next year, De Silvestro states that securing a good package is pivotal for her next contract.
The last three years at Kelly Racing have been challenging with a 10th place at Newcastle last year a career best finish.
This season, the first without Nissan backing, has seen the team struggle to extract speed from the six-year-old Altima, with a pair of 12ths the highlight for the #78 driver.
"I have to be in a good car, that's a big thing," De Silvestro added.
"The last few years have been difficult with a car that's outdated.
"Nothing against the team or anything like that, it's just the position we got in with Nissan leaving and having this year being a difficult year with having the Mustangs come in and be so strong.
"It just made everything a bit difficult. At the moment it's just looking and seeing what opportunity happens.
"Hopefully something happens that is really positive; it has to be a good place that I know I can be pretty successful in."
However, De Silvestro has not ruled out staying at Kelly Racing if the team's plans for next season are appealing.
"I don't know. I have not heard what they're doing, so for me it's a difficult position," she said when asked if staying at Kelly Racing is an option.
"For sure I think the situation we're in with the car it's difficult and I don't see that being something good for next year.
"If they come up and say we are going to be buying Mustangs or Holdens or whatever, maybe it's something I have to consider.
"I really like Todd and Rick (Kelly) and they're really great guys, but I think for sure, just with the car we're in it's been really frustrating for all of us.
"As a driver, you're always the one who loses out if things aren't going right. You've just got to work hard to try to put yourself in a good position."
Meanwhile, current Supercars boss Sean Seamer wishes to see De Silvestro continue in the series next season and will assist her plans where it can.
"We'll do whatever we can within the confines of the regulations of the sport. We want her to stay," Seamer told Speedcafe.com.
De Silvestro is set to hit the track today in opening practice for the Watpac Townsville 400.