Holden explains Supercars, Triple Eight renewal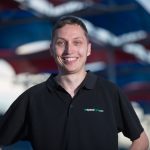 Holden has moved to explain the process behind the strange rollout of its renewed commitment to Supercars and Triple Eight.
A fresh two-year agreement until at least the end of 2021 was revealed by Triple Eight co-owner Jess Dane during an interview on Fox Sports' Supercars Trackside show.
Holden had originally inked a three-year deal with Triple Eight from 2017 onwards in a move that saw the firm shift its factory backing from Walkinshaw Racing to the Roland Dane-owned squad.
The deal also saw Triple Eight charged with the development of the ZB Commodore Supercar.
THE FINAL RACE OF THE 2023 REPCO SUPERCARS CHAMPIONSHIP ON ONE OF THE WORLD'S BEST STREET CIRCUITS. GO ALL IN AT THE VAILO ADELAIDE 500, CLICK HERE TO BUY TICKETS
In what was a low key announcement, the Australian brand weirdly elected against making an official statement about its renewal.
The company has however since clarified to media that the decision to recommit was not one recently taken and has been long in the making.
Holden's marketing boss Kristian Aquilina says that it wanted the news to get out but admitted that the timing was not optimal and it will celebrate the commitment later down the track. 
"For us it's matter of fact. The continuation of our involvement is something we've been working on for a long time," said Aquilina. 
"We have a very long history with the sport, we want to be involved into the future.
"The timing of it was not necessarily optimal for us. We'd like to celebrate it some time down the track, particularly as we draw closer to our 50 years of involvement in the sport. 
"But I thought it was important that the team be able to concentrate on doing what they do, rather than responding to questions about our ongoing involvement.
"So when it came time for Jess to talk to the media I said 'just let it go, let it out there, because these are terms that we're kind of happy with'. 
"We'll go and celebrate it some time down the track, when (the timing) is more suitable for that."
The extent of the financial backing it will commit over the next two years remains unclear amid suggestions that it may be reduced.
He also claims there is no specific reason why the extension is only for two years.
"I guess when it comes to a commercial arrangement I'm not keen to talk about it, we don't talk about those sorts of things," he said.
"It's fair to say when it comes to long-term relationships like our involvement in the sport, sometimes it's also about the investment you've made in the past, as well as what you're going to in the future. 
"That all has to balance out. But yeah, I'm not going to talk specifics on the numbers.
"The two-year timeframe, there was nothing specific that drove it to that. 
"It was the right amount of time for this sort of extension and commitment at the levels that we're talking about. 
"It wasn't anything specific that drove it from a three-to a two-year deal, it was just how the conversation unfolded."
However, Holden has confirmed that support it is offering to all Commodore teams this season in Supercars will also continue.
It was revealed in March that Holden has offered squads a special deal on parts and use of road vehicles. 
"Yeah, so our commitment there continues as well," Aquilina added.
"Sometimes it's (about) more than just the cash; just like with the other Holden teams in pit lane, as well as with Triple Eight, it's more than just about… our involvement in the sport is broader than that and it's the right mix of that that suits both parties, is what the terms that we've agreed to and it continues for the rest of the teams as is as well."
Holden has endured a tough 2019 season so far with only one race win to its name, through Triple Eight's Shane van Gisbergen, compared to the 15 recorded by Ford.