Erebus boss believes driver re-signings a 'formality'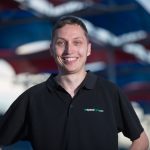 Penrite Racing CEO Barry Ryan is hoping to soon announce an unchanged driver line-up for 2020, labelling the decision as 'just a formality'.
David Reynolds and Anton De Pasquale are among a number of drivers out of contract in what is expected to be a busy silly season.
The duo have proven to be a strong pairing at the Melbourne squad, helping lift Erebus Motorsport to third in the teams' standings, scoring five podiums with Reynolds taking four of those.
Reynolds has recently signalled his intention to sign a new deal but there have been question marks surrounding second-year driver De Pasquale.
The 23-year-old impressed with his one-lap pace during his rookie season and this year he has caught the attention of many in the paddock with improved race pace, headlined by a maiden podium at Phillip Island.
De Pasquale has elected to focus on his results rather than worry about his future, while Erebus boss Ryan hopes to make the decision to re-sign a simple one.
Keen for the continuity across the whole squad for 2020, Ryan believes that it is just a case of sorting out a deal with De Pasquale.
"Hopefully we can announce a few things soon but I think really it is just a formality," Ryan told Speedcafe.com.
"I would be disappointed if either of them thought there was a better place to go.
"I don't want someone who doesn't want to be here, so the biggest question to Anton is, 'does he want to be here?' and he does, so the rest is just sorting out what sort of deal we do with him and for how long it is and press on.
"We want to keep the whole team together from truck driver to mechanics to drivers.
"We want to keep the whole team together because that is what has given certain teams a lot of success over the years and we need to look at that model and make sure we have it.
"Anton has really stepped it up to a fairly high level so Dave has got a lot more, I guess, respect or trust that Anton's feedback is genuine because he is actually on the pace.
"They push each other a lot. Dave looks at Anton's data a lot more than he used to. It pushes everyone along and Dave has also gone to another level because he has to, to keep up with Anton."
The squad has rapidly grown since its switch to Holden in 2016, to become one of the leading outfits in the paddock and, on many occasions, the top Commodore team at events.
Given its success and the availability of RECs, the squad theoretically could expand its operation to back to three cars, which it ran when it originally joined the championship in 2013 after buying out Stone Brothers Racing.
Ryan says the team has previously held discussions to expand but it is not among its plans at this stage.
"We have had discussions around it (securing another REC) but it's not really what we want to do, but as a business you might need to do it at some point," he added.
Meanwhile, the squad heads into this weekend's Watpac Townsville 400 currently enjoying a rich vein of form that has seen the team rocket up the standings after an admittedly slow start to the season.
Having focused on honing its base set-up, that has yielded results at Winton and Darwin, Ryan is hopeful the gains made recently will translate at the Reid Park circuit.
"I think at Townsville we were probably a little bit weak last year with damping but we have done a lot of work on the Supashocks and we think that is going to help us a lot this year," he said.
"We have got a really good base set-up now which is what we struggled with at the start of the year to get something like what we had at the end of 2018.
"Now we are back in the window where we know and have confidence in what the car is doing and that makes a big difference."
The team will run new look ZB Commodores featuring a camouflage livery supporting the Royal Australian Artillery at Townsville, with the cars set to hit the track for opening practice tomorrow at 1055 AEST.