Erebus sells stake in #99 REC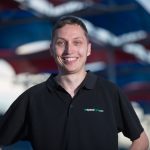 Erebus Motorsport has sold a 50 percent share in the #99 Racing Entitlements Contract to its CEO Barry Ryan.
The deal, which was initially triggered in March before becoming official this week, sees Ryan become a co-owner of the REC and partner of the Melbourne squad owned by Betty Klimenko.   
Highly rated young gun Anton De Pasquale, who is out of contract at the end of the year, currently pilots the team's #99 Penrite Racing ZB Commodore.   
Ryan has become a key member of the squad that joined Supercars in 2013 after purchasing Stone Brothers Racing which saw the outfit run three Mercedes-Benz E63s, before scaling back to two cars in 2014, and then switching to Holden Commodores in 2016.
Before joining the team's Supercars operation, Ryan had been working full-time in the team's Mercedes GT program.
"I am happy to announce Barry as my new partner and co-owner of car #99," said Klimenko.
"I am proud of what Barry and I have achieved in Supercars over the past three and a half years.
"We are stronger and wiser together and I couldn't think of a better partner.
"We had to wait for some paperwork to be finalised, but he's now truly joined the dark side.
"We both believe in the direction we are heading, and it was always part of the long-term plan."
Ryan is honoured to become a partner of the team.
"It's a huge leap of faith for Betty to trust and have faith in me investing into being a 50 percent shareholder in one of her RECs," said Ryan.
"Betty has been a proud sole owner of her RECs for her whole time in Supercars and I am honoured that she has asked me to be her partner.
"It enables me to cement myself in the Erebus Motorsport business and Supercars for the long term.
"My day to day does not change, I have always treated Betty's business like my own.
"This does though put a whole new perspective on knowing I have 'skin in the game' to ensure Erebus Motorsport and Supercars are stable and working on the long-term plan."
Penrite Racing is currently enjoying a strong season which sees the operation sit third in the teams' standings. 
After scoring a pair of podiums at Darwin, the squad has elected to send its two ZB Commodores for David Reynolds and De Pasquale straight to Townsville instead of returning to its Melbourne base.