Supercars closing on new 2020 tyre deal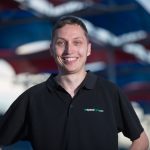 Supercars is closing in on a new control tyre deal with Dunlop which could include an increase in event allocation and the removal of the much maligned tyre banks next year.
Dunlop has acted as the control tyre supplier since 2002 and is in the final year of its current arrangement with Supercars.
The tyre manufacturer provides two compounds from its Japanese factory to Supercars, known as soft and super soft, as part of a deal which is understood to be cost effective to teams.
Speedcafe.com understands a new deal between Dunlop and Supercars is to be announced in the coming weeks.
It is believed both parties are working towards a deal that will see tyre allocations per event increase, which would bring an end to the use of tyre banks.
Teams are currently forced to carry over older rubber during Friday practice at events, which has frustrated drivers and fans.
Last year there was a proposal tabled to scrap the use of tyre banks this season but the proposal didn't receive the green light.
It is anticipated that a deal will be announced by mid July alongside the reveal of the 2020 calendar.
"We're not far away," Supercars boss Sean Seamer told Speedcafe.com.
"I'm hoping to be able to announce what we're doing with tyres, formats, the calendar because its all interlinked along with any potential development changes for the car, all at the same time next month so we can ramp up an entire 2020 position for our fans."
This year tyre allocations at regular SuperSprint events have been increased from 24 to 28 tyres with that expanding to 36 at Bathurst and 32 for Gold Coast and Sandown, due to the demise of two Racing Entitlements Contracts (REC).
Teams will however have 32 tyres per car at their disposal at Pukekohe, as squads are unable to bring in used tyres due to New Zealand's strict quarantine laws.
Production schedules for next year's rubber will need to be in place by August to ensure tyres will be ready in time for the start of the 2020 campaign.