Walkinshaw: Reduce Supercars aero for better racing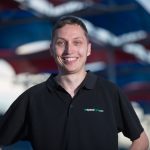 Ryan Walkinshaw has thrown his support behind a move to reduce downforce from Supercars to improve the overall product.
As revealed last month by Speedcafe.com, homologation teams have discussed a push to decrease the aerodynamic effects on the current cars, a move which could be carried out as soon as next year.
Championship regulations currently mandate a total downforce figure (front plus rear) of approximately 350kg at 200km/h, which is measured in straight-line running during the VCAT homologation process
Less aerodynamic influence and as a result downforce being created by the cars would, in theory, allow drivers to follow each other more closely and enhance the racing with more opportunity for overtaking.
THE FINAL RACE OF THE 2023 REPCO SUPERCARS CHAMPIONSHIP ON ONE OF THE WORLD'S BEST STREET CIRCUITS. GO ALL IN AT THE VAILO ADELAIDE 500, CLICK HERE TO BUY TICKETS
It is a move that has been undertaken by several global categories in recent years including Formula 1, IndyCar, and the DTM.
The co-owner of the Walkinshaw Andretti United Holden squad believes the focus on aero with the latest crop of Supercars has gone too far, and a reduction in downforce is one way to improve the racing product.
He also feels it would ease the process of achieving parity amongst the models, avoiding a repeat of the debate surrounding the Ford Mustang that has plagued this season.
"I've heard discussions about what potential changes there might be, but I've had no solid information, specifics, and until I have those specifics it's going to be very hard for me to judge," Walkinshaw told Speedcafe.com.
"My personal view is let's rip a bunch of downforce out of the cars and go back to what we had even seven or eight years ago.
"It's going to make the racing better, it's going to make it easier to pass, it's going to have fewer issues with trying to get parity on the aero platform and make it simpler.
"We've got to ensure that the tools and the methodology that we use at the end of the season to benchmark the cars against each other is done in a really effective way because no one wants to go into next season either as a team or as a fan, or as a partner of a team, and have the kind of nonsense that we've had this year."
Walkinshaw says it is time to take responsibility collectively for reining in the effect of aerodynamics on the sport and expects most teams would be in favour of a reduction.
"If you are not in a Mustang I think every other team will be looking to try (and reduce aero and downforce) and to be honest it's our own fault," added Walkinshaw.
"We've got to take our own responsibility and blame for it because every time we've brought new models out, everyone's sort of pushed the boundaries a bit more, and next thing you know it pushes you in a direction which we've now ended up in, which makes it very very difficult to achieve an equalisation between the different body shapes.
"So, let's just remove all the crap out the cars and let's just go racing like we should do."