BJR hopeful of Percat, Jones repairs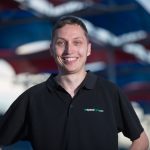 Brad Jones Racing is hopeful both Nick Percat and Macauley Jones will participate in Race 16 after the duo's Commodores sustained damage in a heavy Armor All Qualifying crashes.
The Albury team endured a disastrous qualifying that was headlined by separate incidents at Turn 10 involving Percat and Jones, which red flagged the session.
First Percat ran off the road at high speed resulting in extensive damage to the front of his Holden. 
Moments later team-mate Jones lost the rear of his #21 Team Cooldrive and backed into the tyre wall narrowly avoiding Percat.
The reason for the crashes remains unclear at this stage. 
After assessing the damage to both cars, team owner Brad Jones is relatively hopeful that his drivers will race this afternoon.
Percat's car has managed to avoid significant chassis damage while Jones' car is most likely to make this afternoon's race.
"I hope so," Jones told Speedcafe.com, when asked if he felt both cars could be repaired in time for Race 16.
"We've got some of the SCT guys (ie wildcard crew) down here, it's all hands on deck, and it'll change in a minute when parc ferme finishes but right now we're all going hard at it.
"Percat's car is pretty bad. We're still really assessing it but obviously everything at the front… there's things that we won't be able to change like the A- and B-pillar on the car, but they're looking at the engine now.
"The rails, one of them's got a bend in it but they look okay but really until we put it on a bench we won't know exactly where we are, but I feel like we're capable of getting  (it done)  it's one of our strengths in the team, really, had been being able to bounce back from this sort of stuff.
"We're lucky they didn't end up hitting each other, like it didn't hit Nick I should say, so it's a rear end on that car, so they're probably a bit further down the road in getting that ready than they are with Percat, so I think he's (Percat) got more damage."
Race 16 is scheduled to begin 1330 local /1400 AEST.