McLaughlin dedicates victory to absent engineer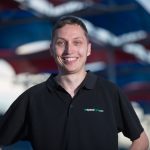 Scott McLaughlin dedicated his 11th victory of the season to his absent engineer who was called away from the BetEasy Darwin Triple Crown due to a family bereavement.
McLaughlin was without regular engineer Richard Harris, who has travelled to the United Kingdom in sad circumstances following the death of his father, which saw Shell V-Power Racing rejig its engineering line-up with Ludo Lacroix taking over the role.  
Experienced British engineer Harris has proved a valuable member of the #17 side of the garage which McLaughlin made clear during his Race 15 victory celebrations at Hidden Valley Raceway.
"You would love to try and do it (win the Triple Crown) but today unfortunately my engineer Richard's dad passed away in the early hours of the morning," said McLaughlin.
"This is for him, I am not really worried about the Triple Crown at the moment, just the welfare of my boys.
"Richard has been on my team, the #17 car, since I've been in the team. He's a great rooster. 
"We call him 'Puppy' because he's Ludo's pup, and he's a really thorough engineer. 
"We definitely miss him. 
"We've got some great guys to look after all those sorts of things. 
"But obviously he's on the radio, so this weekend's race was my first time with Ludo on the cans all year, so I sort of had to learn a bit of that 'Frenglish' that he had, but it's all good. 
"We'll get around it. The main thing is that he is back with his family, and paying his farewells to his old man."
As part of the reshuffle, the team has flown up design engineer Matthew Garlan to fill the vacant spot in McLaughlin's engineering team.
"We lost him (Richard) overnight, so we just had to re-jiggle a few things," added McLaughlin.
"They've flown another guy out that was with me at Sandown last year to cover for that; Matt Garlan, he's a great guy as well. We got around it.
"Obviously, you need to fill that spot somehow because the guy that replaced him at the start of the day is our strategist for the race, so we sort of need him for the race, and all that sort of stuff. 
"So, it's a little worry, but the guy's a professional and will get it done."
Victory in Race 15 has seen McLaughlin extend his championship lead to 298 points over team-mate Fabian Coulthard, who finished seventh after suffering a broken rear pushrod in Armor All Qualifying.
David, father to Richard (Scott's Race Engineer) tragically passed away last night. Today both cars will be racing in his memory. :black_heart: #VASC pic.twitter.com/hhLi168t29

— Shell V-Power Racing (@DJRTeamPenske) June 15, 2019