KBR full-time Supercars graduation 'not off the cards'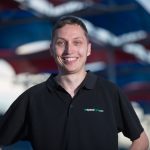 A move into the Virgin Australia Supercars Championship for Kostecki Brothers Racing next year is not off the cards following confirmation of plans to tackle this year's Pirtek Enduro Cup.
The Super2 outfit plans to hand Supercars Championship debuts to cousins Brodie and Jake Kostecki in a wildcard entry in the Supercheap Auto Bathurst 1000, Vodafone Gold Coast 600 and Penrite Sandown 500 endurance races.
A VF Commodore usually driven by Jake Kostecki will be upgraded to ZB specification for the project that has been two years in the making.
KBR made its main game debut last season through two wildcard outings for Kurt Kostecki at Queensland Raceway and The Bend.
The team has previously expressed a desire to make a full-time graduation to the top level of Supercars and was also linked to the purchase of a REC last year.
Entries handed back by Triple Eight and Tickford in 2018 remain on the market for 2020.
While the focus is on preparing to contest three of Supercars' biggest events this season, Brodie Kostecki has admitted that the prospect of KBR stepping up to main game next year is still an option.
"It (moving to the main game) is an option but, obviously everything comes down to funding, so we want to make sure that we can do it properly and not be a backmarker," Kostecki, who tested for Triple Eight last month, told Speedcafe.com.
"It's definitely not off the cards at the moment, but, we're just taking it race by race.
"We haven't really looked into next year too much, to be honest.
"There's a lot of speculation and stuff, but we're just trying to do it to the plan that we created two years ago, and that was just to do a couple of wildcards and see how we go.
"So, there's no pressure on anyone to go jump and do something big next year.
"We're pretty open minded about next year, and trying not to lock ourselves too much into our own team."
The decision to run a wildcard in the Pirtek Enduro Cup will see Brodie Kostecki step out of his Super2 drive and his VF Commodore handed to Jake Kostecki for the remainder of the season.
Now looking ahead to The Great Race, which will be his next race, Kostecki admits the experience will be both exciting and nerve wracking.
The entry will be overseen by former Tickford engineer Jason Gray.
"Bathurst is a great track to race at, so being able to do that ourselves, too, with the family team is really exciting for us," he added.
"Growing up and watching it on TV, and all that stuff as well, so it's going to be really exciting and very nerve wracking for everyone as well; not just Jake and myself, also the whole team.
"We have some great experience behind us, like Jason Gray, and I think we should be able to go okay."
KBR will return to action in Super2 at the Watpac Townsville 400 from July 5-7.