SVG hoping to foster young talent after buying title-winning FFord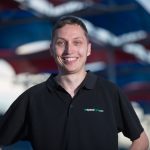 A move to be reunited with his championship winning Formula Ford car could see Supercars star Shane van Gisbergen assist the next wave of young Kiwi stars.
The 2016 Supercars champion has recently purchased a Stealth Evo 2 Formula Ford which he piloted to win the 2005/06 New Zealand Formula Ford Championship, aged 16.
Acquiring the car has been a long time goal for the Triple Eight star who now plans to restore the racer, with his father Robert in New Zealand, to its championship livery, and one day jump back behind the wheel.
Owned by the Vickers family in New Zealand, the car had been lying dormant in a shed before van Gisbergen elected to buy what he claims is a 'pretty special car' in his career.
Prior to van Gisbergen driving it to victory in NZ Formula Ford, it had won the 2004 New Zealand Grand Prix with the legendary Kenny Smith at the wheel.
However, its purchase has led to van Gisbergen buying a second Formula Ford from the Vickers family which he and his father now wish to use to field a rising star in New Zealand Formula Ford.
"We always knew where it was, and Dad and I always wanted it back one day, just the timing to buy it was right," van Gisbergen told Speedcafe.com. 
"It is a bit early to be a bit sentimental about a career already, but we always wanted that car back. It was pretty special to us. 
"Dad ran it himself and prepped it himself with the help of mates, but it was very much a family-run car. 
"It was a car that I learnt quite a lot of my craft and racing skills in, and we won more races than we lost, so it was a cool car to have.
"The Vickers family had two cars which they bought from the Evans brothers, and they did quite well in them, then it sat in the shed for a few years, so they didn't really know what to do with the car, so we've ended up buying both cars. 
"My one, we'll restore and I'd like to drive it again, but mainly leave it as a showpiece. 
"And the other car we'll restore to race spec and Dad and I have been speaking a bit, and we'd like to try and put a kid in the car and help the next generation coming through in Formula Ford.
"The last few months I've started helping out with Paul Morris and he has been doing a lot for young kids at the Norwell Motorplex.
"I've been enjoying helping young guys progress, so hopefully we can do that in New Zealand.
"Hopefully we can get some more young kids through and maybe this Formula Ford car can help someone as well."
Reflecting on the success in the 2005/06 New Zealand Formula Ford Championship, van Gisbergen hailed his Stealth Evo 2 as a perfect weapon.
"In general that car could do no wrong," he added.
"In Formula Ford, to be fast, you got to be right on the limit and on a knife-edge.
"That's where I learned a lot of car control and driving at the limit for a whole race and making no mistakes, so there's some pretty wild moments I had driving that car. 
"I think one of the pictures I posted online was Pukekohe Turn 1, I qualified on pole for the first race. 
"Heading into Turn 1, it was sprinkling and I tried to still go flat, and I spun out in front of the whole field. 
"I think I went back to eighth or something, and come back and won the race so that was probably the best race I had. 
"But, the car itself, we had a good engine, which is important, but the car would always handle well, it was a well-built car."
After winning the NZ Formula Ford title, van Gisbergen finished runner-up in the Toyota Racing Series the following season before embarking on a career in Supercars in 2007.