MPC adds two more Audis to TCR fleet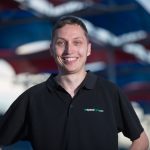 Melbourne Performance Centre has added two more Audi RS3 TCR cars to its fleet for competition in TCR Australia.
The official motorsport agent for VAG (Volkswagen Audi Group) in Australia already runs an Audi RS3, which was piloted by Dutchman Rik Breukers at Sydney Motorsport Park, and a Volkswagen Golf for Aaron Cameron.
Its latest acquisitions are expected to arrive in the country this weekend with the squad intending to field the cars at Phillip Island for Round 2 of TCR Australia from June 7-9.
MPC is yet to confirm the drivers for the new cars and its existing Audi that was driven by Breukers in a one-off drive in the opening round. 
"The two new cars are for sale or lease, but we are committed to entering them, plus our existing Audi into the Phillip Island event," said Troy Russell, managing director at Melbourne Performance Centre.
"After Sydney, we received an incredible amount of positive feedback about TCR. Everyone realised that TCR Australia is real and it's happening, and potential customers of ours were pleasantly surprised about how well it ran.
"And the whole show is only going to get better. For our business, and the feeling amongst the industry, TCR is the way forward. The interest has been massive. Hence why we have two new cars on the way."
News of two more Audi TCR machines heading to Australia comes off the back of confirmation that Wall Racing has ordered two more Honda Civic Type R machines.
"It is fantastic to see two more cars coming into the Melbourne Performance Centre stable for this year," said Matt Braid, director at TCR Australia promoter Australian Racing Group.
"Adding to the two new Hondas that were confirmed recently, this will mean that we are well over 20 cars in the country and more on the way.
"The Audis are one of the strongest and consistent performers on the TCR global front. The RS 3 was awarded the TCR 'Model of the Year' in 2018, so it's no surprise to us that there has been strong interest in people racing it here."
TCR Australia continues at Phillip Island where it will be witnessed by TCR global boss Marcello Lotti.
All races will be broadcast live on SBS and on the Shannons Nationals live stream which will be carried by Speedcafe.com.