Wall Racing doubles Honda TCR fleet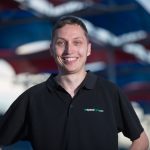 Wall Racing has acquired a further two Honda Civic Type R TCR cars which could be set to join the TCR Australia grid in the near future.
The Sydney-based outfit run by David Wall indicated plans to expand its fleet of two cars following the opening round at Sydney Motorsport Park earlier this month.
After a successful debut that saw Tony D'Alberto score pole position and claim two podiums, Wall Racing says it has received interest from prospective competitors.
As a result, the squad has purchased two Civics from Honda homologation team JAS Motorsport in Italy, which are currently being airfreighted to Australia.
Depending on the timing of their arrival they could join the grid for Round 2 at Phillip Island next weekend.
"Doubling the fleet is a lot to undertake in a short period of time, but we are looking forward to the challenge," said Wall.
"Thankfully, we ware ready and equipped for the task. We typically run multiple cars in other classes, so we already have most of the infrastructure and personal required to do the job.
"We are comfortable taking on the workload, and we have the right people in place.
"The major factor ahead of Phillip Island is getting the cars in time and being comfortable to let them go out on track.
"If everything falls in line like cars arriving and securing the drivers, then there's no reason why we won't have all four at the Island.
"If there are any hurdles, though, we'll put a pause on it and wait until The Bend."
Wall Racing currently receives minor support from Honda which has resulted in both its cars for D'Alberto and John Martin run in the factory colours.
TCR Australia promoter, the Australian Racing Group (ARG), has already indicated its wish to grow the grid this year after welcoming 17 cars at Sydney Motorsport Park.
"These are really encouraging signs that our teams are getting such strong interest from new entrants, and we've only had one round," said Matt Braid, ARG director.
"Honda was the first car brand to support a team in TCR Australia, and after Tony (D'Alberto) was so competitive at Sydney, it was almost obvious that Wall Racing received enough interest to warrant another two Civics in his fleet.
"This is early days, but it's a great tick of approval for the category and the interest across the board is very strong."
The series heads to Phillip Island next week with Hyundai driver Will Brown leading the points from Dylan O'Keeffe (Alfa Romeo) and D'Alberto (Honda).