Injured Stanaway withdrawn from Winton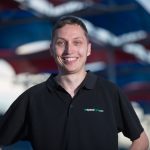 Richie Stanaway has been withdrawn from the remainder of the Truck Assist Winton SuperSprint due to a neck injury.
Stanaway received medical treatment that included an injection at the circuit prior to Armor All Qualifying after a neck injury flared up and contributed to a crash during today's practice session.
The New Zealander was forced to abandon a test day early last week due to a neck complaint which is thought to stem from a crash back in 2012.   
Boost Mobile Racing has confirmed that Stanaway has been withdrawn from the event and will be replaced by his Pirtek Enduro Cup co-driver, Chris Pither.
Stanaway, who underwent treatment last week following the test day, will now undergo an MRI scan on Monday.
"Obviously really disappointed, it wasn't a decision that I wanted to make," said Stanaway, who finished today's race in 25th after being involved in a clash with Simona De Silvestro.
"I tried to deal with it today, but unfortunately its too severe an issue to keep going, especially tomorrow with the longer race.
"We've all decided that its the best thing to do for myself and for the team.
"I'll get an MRI on Monday and find out whats wrong so I can fix it as soon as possible. I don't think driving tomorrow will help the situation."
Meanwhile, Pither, who took part in today's Additional Driver practice, feels for his stricken colleague and is ready to make a return to the full-time grid.
"It is an unexpected call up to drive the #33 car tomorrow," said Pither.
"I feel for Richie, he's clearly been battling some neck issues.
"It would have been a hard call for him to make, but I'm looking forward to the challenge.
"Obviously I've being thrown into the deep end, having not driven Supercar since Newcastle last year. I'll give it 100 percent, and do my best for Boost Mobile Racing."