Super Trucks in positive talks with CAMS to lift ban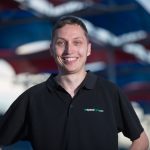 Stadium Super Trucks could be set to return to Australia's biggest motorsport events following positive discussions between the category and the Confederation of Australian Motor Sport to lift its licence suspension.
CAMS banned the Robby Gordon owned category from racing at its sanctioned events on safety grounds last year by suspending its competition licence.
However that could be set to change following a series of talks between CAMS boss Eugene Arocca and Gordon with the former tipping an agreement for a return could be reached within the next three weeks.  
It has been suggested the series could be included on the bill at next year's Superloop Adelaide 500 if parties can agree to lift the ban that will then subsequently require approval from the CAMS board.
The ban proved unpopular with fans while triggering a war of words between Gordon and CAMS that resulted in legal proceedings with the Victorian Supreme Court electing to uphold the licence suspension in October.
At the time CAMS claimed it issued Stadium Super Trucks a proposal to make safety modifications to the wheels of its vehicles after one came loose and hit a pedestrian bridge while racing on the support bill at Supercars' Perth SuperSprint in May last year.
That event was the last time they featured at a CAMS meeting having been removed from the support bill at the Gold Coast 600, although the series did feature at an AASA sanctioned Australian Motor Racing Series Sydney Motorsport Park round following the court case, which remains its last appearance in Australia.
Once at loggerheads, CAMS and the Stadium Super Trucks opened communication last month to find a way to bring the category back to Australia's biggest events.
Speedcafe.com understands that the introduction of smaller ramps and higher catch fencing at circuits are among the items being discussed to pave the way for their return.     
"Look we've always been clear about our expectations on what we want to achieve in favour of a comeback, we didn't give them a permanent suspension so we've been quite frank about saying that we've been in discussions with them and I would say they're fairly positive discussions about our expectations," said Arocca.
"No one's shutting the door on each other and I'm not going to go into the details about what we're expecting from them and what they're going to provide us, because we're still in discussion. 
"But so far the vibe is we can probably get a point where both of us can shake hands at this stage.
"I mean things can change, I haven't heard back from him for some time recently but we spoke through most of the latter part of April (and) early May and so we now just need a point where we're hoping to hopefully wrap things up in the next two to three weeks.
"But that doesn't mean we'll go public straight away. We're just working away to see what we can find some mutual agreement on what we expect and what they can provide."
Arocca maintains that CAMS has not changed its position regarding the safety implications of the series and there is no animosity between the parties.
"We have only been at loggerheads to the extent that they were not happy about being suspended," Arocca added when asked about the relationship between the two parties by Speedcafe.com. 
"We've been very clear about why those reasons were and I think it's fair to say that we haven't changed our position but we've just had the opportunity to sit down and talk in more detail. 
"I think that whatever the outcome, hopefully it will be a positive one, we'll see the results of those discussions. I've got nothing personally against Robby (Gordon).
"There's no animosity, there's no backchat, we just want to be professional about the outcome and pretty confident that if discussions keep going the way they are then hopefully what we're achieving.
"It's still got to go to the board, and we've still got to reach a concluded agreement (or) outcome but I'm pretty confident."
Matthew Brabham, grandson of the late Australian three-time Formula 1 world champion Sir Jack Brabham, is the reigning Stadium Super Trucks series winner.