Neck pain shortens Stanaway's GRM Winton test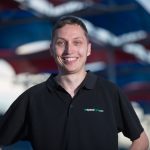 A bout of neck pain forced Richie Stanaway to cut short his running during a productive test day for Garry Rogers Motorsport at Winton.
The Melbourne squad was among four Supercars teams including Walkinshaw Andretti United, Brad Jones Racing and Kelly Racing that elected to test on Wednesday at the rural Victorian circuit ahead of the Truck Assist Winton Super Sprint.
Stanaway logged laps in the #33 Boost Mobile Racing ZB Commodore in the morning before finishing the test day early having suffered from nerve pain in his neck, according to the team.
The Kiwi is due to visit doctors today although the team is confident the driver will be fit to undertake next weekend's championship round at the circuit.
"Richie just had a bit of pain in his neck and it was stopping him from driving 100 percent so he finished up a little bit early. He still got a bit of running in during the morning," Stefan Millard, Boost Mobile Racing team manager, told Speedcafe.com.
"He will go see the doctor but he will be all right for next weekend."
Despite the early finish for one of its drivers, the team believes the data gathered from the outing by Stanaway and team-mate James Golding will boost its Winton preparations.
Next weekend's race will see Supercars teams in action on Saturday and Sunday with primary drivers taking part in one practice session before knockout qualifying on both days.
The squad has endured a tough start to the 2019 season with its drivers yet to score a top 10 finish from the 12 races to date.
"It was good. We usually test there after the round at Winton but we decided to test because the round was coming up, so that was our plan," Millard added.
"With the two day format and less practice at Winton next weekend we wanted to take the opportunity to practice now.
"We went through a few changes that we wanted to do, we didn't have any new parts or anything like that, but we were able to go over a few bits and pieces that we have tried in the past.
"I think it will be quite useful. I think sometimes home track advantage doesn't help as much as what you think. I think it was definitely beneficial."
The Truck Assist Winton SuperSprint is scheduled from May 24-26.