Growing confidence aiding De Pasquale racecraft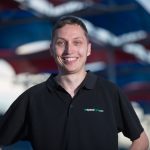 Anton De Pasquale believes an improvement in his racecraft this year stems from growing confidence levels behind the wheel.
The Penrite Racing young gun burst onto the Supercars season scene last year, demonstrating impressive raw pace over one lap but at times struggled to progress in races.
In his rookie year the Victorian qualified inside the top 10 on 13 occasions, converting only one of those into a top 10 race finish.
At times he was guilty of overzealous racing having faced the wrath of the stewards for causing contact in failed passing attempts that resulted in a $3000 fine and a series of points penalties.
However, this season there has a been a noticeable change in De Pasquale's racecraft having moved forward from his grid slot in five races, with last Saturday's outing in Perth highlighting the improvement.
The 23-year-old climbed from 14th to seventh by stringing together several clean moves which he puts down to increased confidence in his racecraft.
"It (racecraft) was probably something I lacked last year, just being able to obviously maximise the position I'm in or if you're not in the best position, make some up and whatever," De Pasquale told Speedcafe.com.
"This year I've been able to do a bit more of that.
"Confidence comes with the car, and understanding what needs to be done.
"You're racing with a lot of experienced guys. You're always learning, trying to improve and at the same time trying to make a step forward.
"(It's) a bit of both (confidence and hard work).
"(I'm) just understanding what I need to do and understanding what I need from the car at the same time and working as a team just to maximise it all.
"I know when you need to make a pass, and got to stop and get it turned, and all that kind of stuff.
"It's a little bit of everything, just trusting what you got. The more you do it, the better you feel and the more you do it.
"Last year I was just a rookie in a game with guys who have been around for a long time and I was learning everything for the first time.
"You respect that and try not to make a fool of yourself and all that kind of stuff too. But, now I sort of feel a bit more confident in the car and our speed is quite good."
The improvement has warranted praise from Penrite Racing boss Barry Ryan.
"Last year he got a few penalties for some overzealous racing but he was able to pass Rick (Kelly) and that will give him some confidence because he is one of the hardest to pass and he did that clearly," Ryan told Speedcafe.com.
"You can see he is racing with more confidence and that is what we need from our drivers, to not make mistakes and (to) finish races."
The strong showing from De Pasquale at Perth arrives after scoring a maiden Supercars podium at Phillip Island courtesy of a third place finish in Race 10.
A strong start to the season sees the driver sitting 12th in the standings ahead of the Truck Assist Winton SuperSprint from May 24-26.