Milwaukee Racing clarifies Davison contract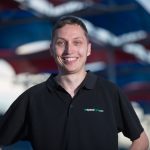 Milwaukee Racing boss Phil Munday has clarified the length of Will Davison's contract, confirming that the driver is set to continue with the squad next year.
Munday has confirmed to Speedcafe.com that Davison has agreed to a three-year deal which will keep him with the Ford outfit until the end of 2020 at least.
The two-time Supercheap Auto Bathurst 1000 winner joined 23Red Racing for 2018 in a late deal put together in 2017 having faced the prospect of dropping off the grid following a two-year stint at Tekno Autosports.
Davison gelled quickly with Munday's new one car squad, scoring a series of strong results last year which has continued since the squad became a customer operating out of the Tickford Racing stable.
The 36-year-old is enjoying a resurgence in form, sitting seventh in the championship, having chalked up top 10 results in all bar two races to date, including three, fourth place finishes.
"I love what Will does. He is 110 percent committed to our team and to me and me the same from me to him so that takes away all the negativity and the doubt and he can concentrate on doing his job," Munday told Speedcafe.com.
"Last year for me was a learning curve to see how the series works and the second year is all about applying and the third year we can get some serious results. 
"I wouldn't be as bold as to say we can get a championship but certainly some consistent results next year and this year.     
"I've done everything I can to put the best car under Will's backside and he is producing the goods and is a great team player in the Tickford garage."  
Davison reiterated his commitment to the team when asked about his contract status during the Pirtek Perth SuperNight. 
"(I've) committed to Phil (Munday) and we're both happy, we get on great," said Davison.
"(I'm) certainly in it with him and this project and trying to give back to him. 
"He's put a lot in, given me a great change, and put a lot into this sport personally. 
"I've certainly got his back entirely and we're just doing this project together which is fine, and hopefully I can bring him some success and he'll want me to keep driving with him. 
"But I'm certainly committed to him throughout this year and next year for sure."
Meanwhile, Davison's Tickford Racing team-mates Chaz Mostert and Cameron Waters are off contract at the end of the season, while the length of Lee Holdsworth's deal is not specified.