Supercars hosts first manufacturers council meeting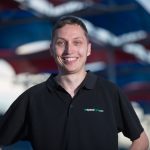 Supercars has hosted its first manufacturers council meeting to discuss the future direction of the championship.
Representatives from current competing marques Ford and GM Holden and Supercars boss Sean Seamer were present for the inaugural meeting held on Tuesday (yesterday).
The concept is designed to provide a way to engage with car companies that are currently competing and prospective entrants as Supercars works to finalise its Next Generation regulations from 2021 onwards.
Supercars tabled the idea of setting up a forum with manufacturers in February following Seamer's visit to the US where he met with NASCAR officials and learned of a similar process utilised by the series.
Seamer declared the first meeting as a 'positive' start to the process of discussing the championship's future direction and welcomed feedback from the representatives present.
"Really positive," Seamer told Speedcafe.com when asked for his view of the first meeting.
"I think it was good for us to spend some time together, to talk about the strategic direction of the series and everything that we're doing. 
"(It was) good to get some feedback from them on what other series are doing around the world. 
"We haven't had a chance to debrief yet but we were really happy with it and it was great to get some feedback from those folks."
Seamer believes the manufacturers council will prove beneficial for Supercars as it bids to utilise the motorsport knowledge from the marques involved in determining its future.
The series is also talking to several global categories, including NASCAR, IMSA and the British Touring Car Championship to help shape its 2021 pathway.  
"I think that we have to recognise that the world's becoming more and more globalised," said Seamer.
"The production of cars is getting more and more globalised so to be able to tap into those types of resources and that intellectual horsepower, particularly given the number of other series that they tap into, and work with around the world, it would be foolish not to speak to and try and pick up ideas, in the same way that we're talking to other racing series around the world."
Work to formalise Supercars' Next Generation regulations is well underway with the championship revealing earlier this year that it is considering changes to its control chassis that could potentially prompt the introduction of the Chevrolet Camaro.  
Last year it was revealed that the series had started studies into the possible use of hybrid technology.
"We're working through it (the plans for Next Generation) and as we said, we're not going to put a hard date on what changes we may or may not want to make as we go forward," Seamer added.
"We are implementing things as and when we think they make sense."