Mostert facing 'very tough' decision on 2020 plans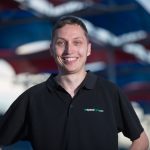 Chaz Mostert has admitted he is facing 'a very tough decision' as he evaluates whether to stay or leave Tickford Racing for 2020.
The Ford star is pondering his options for next season with this year the last of a current deal with the Campbellfield squad he has raced for since joining the category on a full-time basis in 2014.
Mostert is expected to be a key player in this year's silly season having long been linked to Shell V-Power Racing for 2020 as a candidate for Fabian Coulthard's seat should it become available.
The 2014 Supercheap Auto Bathurst 1000 winner has gone on the record as saying that he could extend his stay at Tickford next year if the squad can deliver a championship winning car. 
Mostert was initially coy on discussions regarding his future at this weekend's Pirtek Perth SuperNight but admitted that the decision is important for his championship prospects and will require plenty of thought.
"Got a bit of fishing to do before we make a decision," said Mostert in the Thursday press conference.
"It is a very tough decision. (I'm) 27. The years start kicking away. 
"It feels like yesterday I started in this game and I got my first win (for Tickford) here (at Perth). 
"I feel like the next decision if I stay or go; I really need to make sure I'm putting my best foot forward. 
"I want to be like this guy next to me (seven-time champion Jamie Whincup) and at least get one of those trophies."
When asked if Tickford has ticked the boxes required for him to stay at the team following a tough 2018 season, Mostert said, "This year we've got a different platform. Mustang's pretty exciting to be a part of in Tickford. 
"Look, we've still got a lot of water to go under the bridge this year, lot of races to go. 
"I don't know. I want to make sure I make the best decision where I'm going next year. 
"At the moment, Tickford, we're just trying to make the best platform that we've got. 
"(We've) got some stuff in the pipeline I'm pretty excited about with this team. If we can tick those boxes, not sure where the future holds."
Talk regarding Mostert's future arrives coincidentally with Team Penske boss Roger Penske in town for his somewhat regular visit to the Perth Supercars round. 
"I just like meeting new people. It'd be good," he joked when the topic of Penske's visit was tabled.
Meanwhile, Supercars is not his only option for 2020 with BMW Motorsport keen to sign the 27-year-old after impressing the marque in several GT outings, although the 13-time race winner has indicated that his heart lies racing in Australia's premier series.
Mostert kicked off the Pirtek Perth SuperNight on the front foot by finishing second fastest in opening practice on Thursday night.