Erebus out to make re-signing decision 'easy' for De Pasquale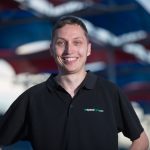 Penrite Racing expects its off contract rising star Anton De Pasquale to attract attention from rival teams but is focussed on presenting an 'easy decision' for its driver to recommit.
The squad's young gun offered a further glimpse into his burgeoning potential with an impressive drive to third in Race 10 at Phillip Island to score his maiden Supercars podium.
De Pasquale has impressed in the main game ever since Erebus Motorsport put their faith in signing the talent after just two seasons of Super2 with Paul Morris Motorsport.
The 23-year-old has turned heads with his pace while Sunday's performance prompted reigning champion Scott McLaughlin to label the driver as a 'future star of Supercars'.
De Pasquale is out of contract along with team-mate David Reynolds at the end of the season.
Team CEO Barry Ryan says the outfit has a two-year option on De Pasquale but hopes the form of its squad will be enough to convince both drivers to agree new contracts.
"We just want to make it an easy decision for them that they won't want to go anywhere, so if we've got fast cars, they won't want to go anywhere and they'll sign straight away," Ryan told Speedcafe.com
"We've been a loyal team to all our sponsors and loyalty's a big thing to Betty (Klimenko) so we hope, in return, we get some loyalty from our drivers.
"We're not at that point (for discussions) and Anton's not the sort of person that's really interested in those discussions, he just wants to focus on doing a job and same as what I just said, he wants to make it a no-brainer that we want him. 
"But we'll have them (discussions) at the time and we'll make sure we cement him in the team because we don't want to put all this work into him and lose him to another team.
"There will be (interest in Anton). Like I said, hopefully we can say to him, 'This is the package you need, you need to stay here and you'll get your best results,' but if someone like Penske want to get him, it'd be hard for him to say no, it would be hard for us to say, 'No, you can't go'. 
"We've got an option on him anyway for two years, so it depends if somebody offers him crazy money and we'll try and fight but we'll worry about that when it comes."
Reflecting on the rise of his young star, Ryan labelled Sunday's drive as De Pasquale's most complete in a race, given that his young charge's most impressive performances to date have come in qualifying.
Last season he scored a solitary top 10 at Phillip Island despite qualifying inside the top 10 on 13 occasions with his best showing being a third at the Supercheap Auto Bathurst 1000. 
Sunday's result is another milestone and one that shows his progression as a driver, whose attention to detail with set-up helped pave the way to a podium, according to the Penrite Racing boss.
"In practice he was adamant that he needed something slightly different from the car so we actually gave him something a little bit different to what we would normally do," Ryan added.
"It made sense to what he wanted but we were a little bit unsure about it, but the engineer (Mirko De Rosa) backed what Anton wanted out of the car and it proved to be right.
"I think he pretty much raced a qualifying car too, so he ticked another box there, that what we qualified, he can actually race, so it was good."
De Pasquale is lying 12th in the standings following his maiden podium success.