McLaughlin: De Pasquale a future Supercars star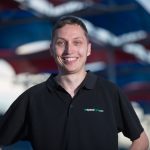 Scott McLaughlin believes Anton De Pasquale is a 'future star' and a 'name' in Supercars for a very long time after the young gun scored an impressive maiden podium at Phillip Island.
The Shell V-Power Racing driver found himself involved in a battle for position with Penrite Racing's De Pasquale after the second round of stops with the former passing the second year driver for the effective second spot at the Southern Loop.
McLaughlin was full of praise for De Pasquale who drove a smart race to third to score his career best Supercars race result
The 23-year-old ended up as the top Holden runner in what proved to be a challenging weekend for the GM brand.
"Anton's a star of the future, we had a great battle, he's going to be a name in this category for a very long time," said McLaughlin in the post race press conference.
"It was cool to have a battle with him, apart from having a pretty awesome name, great sounding name, and he's a great talent, so it was an awesome battle.
"Yeah, probably. It's the same sort of team and I guess I was in a Holden as well, but he's been doing great things and I'm sure we'll see a lot more of him in the future," said McLaughlin, when asked if De Pasquale compared to himself when he started out in Supercars at Garry Rogers Motorsport.
When asked for his response to McLaughlin's praise, De Pasquale said, "It's good, mates looking out for mates, there you go. 
"It was actually quite cool. I had a feeling it was that lap or next lap that he was probably going to get past me because he genuinely had more speed than what we had, and in that particular part of the track those things are just going faster than what we do, so it wasn't a big surprise, but we're happy with third."
De Pasquale labelled his maiden podium as an 'awesome' result that is payback for the team who took a risk in putting him into the main game after only two seasons of Super2.
A seventh achieved at this round in his rookie year last season was his best result prior to the podium triumph.
His race was not without drama having battled an intermittent gear shift issue before concerns emerged that he may run out of fuel due to a sensor failure.
"It's awesome. It was obviously really good to start off today with fourth in qualifying and I nailed the start and sort of just followed the Penske boys for most of the race," said De Pasquale. 
"Obviously the team had a really good strategy, I was in clean air most of the race and it's a credit to them, one they deserve, so it's awesome.
"They obviously took a long shot on me at the start of last year, coming out of Super2 and I didn't win Super2 or anything like that and I hadn't been in Supercars for that long, so for them to give me a go without co-driving previously was a big risk on their part.
"I just have to pay back as much as I can with results like this and like I said, last year we qualified really well towards the end of the year, sort of in that top eight, top 10, so to convert that into race results this year was our goal. 
"A podium was obviously a goal and to do it so early in the season is really good."
The emotion of the result was not lost on team owner Betty Klimenko after witnessing her young gun shine. 
"I mean, he's just made me — I hate to say it — but a really proud mamma," said Klimenko.
"That's how I feel. And his mother was sitting in the back and we were all looking at each other and the tears were coming up. 
"But you know what, he's proved me wrong and he's made me proud."