Phillip Island aero data to play important role in parity endeavours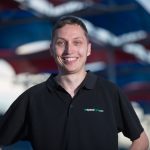 Phillip Island will be crucial in resolving the ongoing Supercars parity debate with data from this weekend's round to play a role in determining if changes to aero packages are required. 
Data gathered from the aero dependent Victorian circuit is set to be heavily scrutinised by the series' technical team and external parties as Supercars bid to ensure parity across the Ford, Holden and Nissan models.
This is the latest step taken by the category to combat concerns over parity after the successful arrival of the Ford Mustang, which has been constructed within the rules.  
Supercars has already conducted a centre of gravity test resulting in ballast being repositioned in both the Ford Mustang (28kg) and the Holden ZB Commodore (6.7kg) prior to last weekend's Tyrepower Tasmania SuperSprint.
While the CoG shift is believed to have levelled the playing field to some extent, several teams maintain that the Mustang has an aero advantage.
A plan to put all three homologated models in a wind tunnel at Melbourne's Monash University was on the cards this week before a late call to abandon the test.
Supercars CEO Sean Seamer confirmed to Speedcafe.com that analysis of the data from Phillip Island, which is to include the use of Computational fluid dynamics (CFD) software, is not expected to bear results until later this month at the earliest.
"We are just continually monitoring it. Every time the cars roll out we've got another data set," Seamer told Speedcafe.com at Symmons Plains.
"They're (the technical team) continuing to look at it and monitoring the situation and we're communicating back to the homologating teams as we get another data set. 
"These things take time, whether you're looking at data from the track and the cars, or doing work with external parties. 
"We'll see after Phillip Island what data we've got from there. We'll get some feedback from the external parties that we're using to help support the technical department. 
"Right now what they're telling us is as soon as we can expect anything is two weeks after Phillip Island. 
"They're looking at a range of things from the sector analysis and taking all the data off the cars, that the technical department have under confidentiality. 
"They're also looking at how that correlates to information that we've got from VCAT and from CFD work as well."
Last weekend saw the CoG revised Mustang and Commodore in action for the first time at Symmons Plains but it was unclear just how much it affected results.
The Tasmanian circuit has been a Holden, and in particular Triple Eight, stronghold while the introduction of the parc ferme freeze provided another variable that could have masked the effect of the tweaks.
Holden took both Armor All Pole Positions although it shared the front row with a Mustang on both occasions.
Shell V-Power Racing claimed a comfortable one-two in Race 7, while Triple Eight scored the Commodore's first win of the season in the Sunday race. 
DJR Team Penske managing director Ryan Story believes the changes had an impact on the weekend.
"CoG changes have made an impact for sure," Shell V-Power Racing managing director Ryan Story told Speedcafe.com.
"The 1-2 result on Saturday was due to team work and an error free run compared to Triple Eight who had impressive speed but had some bad luck in qualifying and the race. It could have easily been a Triple Eight 1-2.
"The ZBs are 3-4kmh faster in a straight line than us as captured at the speed trap, something spoken about at length by the television commentary team throughout the weekend.
"Sunday was a more reflective result of what we were expecting heading to Symmons Plains."
However, Walkinshaw Andretti United co-owner Ryan Walkinshaw believes the Mustang still has an obvious aero advantage. 
"I think the Penske 1-2 after the CoG changes shows that CoG is only one part of the equation and we still have to pull them back on the obvious advantage they have on aero," he tweeted.
"But that's a different issue which sadly I fear will frustrate the fans even more."
Rival teams believe the CoG changes have helped achieve parity but the jury remains out until the Mustang hits the Phillip Island circuit after its impressive showing in pre-season testing.  
It must be remembered that Shell V-Power Racing and Tickford Racing have been successful at Phillip Island with the Falcon FGX having scored four poles and four wins between them in the last two years.
"I'm not going to talk parity but we now know there was a clear advantage to the Mustang," Erebus Motorsport CEO Barry Ryan told Speedcafe.com.
"They've equalised a little bit, it seems to have evened it out a bit for this track (Symmons Plains). 
"We'll see what happens in Phillip Island."
Brad Jones, team owner of Brad Jones Racing, added:"It's hard to tell (if we have level playing field) because all the tracks are so different that we've been to; maybe the centre of gravity made more of a difference than I thought."
"I still think it's a bit early to know. I think it will be interesting to see what happens at Phillip Island."
Triple Eight team manager Mark Dutton echoed the thoughts but admits there is more work to be done to ensure parity.
"All the work that's been done (by Supercars) has worked well," Dutton told Speedcafe.com.
"We pride ourselves on being a very tight category. I see some of the keyboard warriors think it's not as tight as that, but I think if you look statistically it is. 
"Not all the work's done, but definitely (there has been) progress to make sure that the racing is as tight as it can be, and should be.
"At Phillip Island there will possibly be some corners where we won't be able to touch them, but that said if that's the case or if it's not the case we won't know exactly until we're there."