Kelly: CoG tweaks unlikely to directly impact results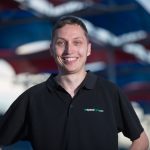 Supercars' centre of gravity changes are important but unlikely to directly influence Kelly Racing's results, according to team co-owner and driver Rick Kelly.
The championship confirmed yesterday that both the Ford Mustang and Holden ZB Commodore will undergo centre of gravity tweaks after it was found the two models have a significant CoG advantage over the ageing Nissan Altima.
Supercars conducted two days of centre of gravity testing at Kelly Racing with results determining that Ford and Holden will be forced to run a higher centre of gravity, achieved by the redistribution of ballast in the car at next weekend's Tyrepower Tasmania SuperSprint.
Having weight placed lower in the car to meet the category's 1395kg minimum weight requirement improves a car's handling.
Speaking on Fox Sports Supercars podcast The Loud Pedal, Kelly praised Supercars for acting to redress the imbalance as a parity debate rages surrounding the new Mustang, but is not expecting a big shift in results.
The 2006 champion claims that for every 10mm the centre of gravity is lower there would have been a 0.4s lap time gain at Albert Park.
"You don't want to take the racing out of the racing where teams have to have the same centre of gravity after they have done a lot of good engineering work," said Kelly.
"You don't want that to be equalised and that is not what this is about.
"This is about the same opportunity between the different makes.
"A two door car is going to have a lower centre of gravity than a four door car, that is only natural. We either all shift to two door cars or we make it fair.
"It is not really a matter of bringing everyone back to us it is about dragging the Ford and Holden back in line with how we were instructed to build our car, which was with all steel panels.
"I don't expect from our point of view for us to rocket to the front of the field by doing this.
"It would be wrong of us to think that it will have that big an influence on our results.
"Our biggest issue remains in the shift in aero balance that we have had from last year to this year and that has been the biggest hindrance in us getting results.
"The centre of gravity change is an important piece to the puzzle but not the one that is going to influence our results."
While pleased that changes have been made, he believes Supercars should have assessed centre of gravity concerns before the ZB Commodore was introduced last year.
The arrival of the latest Holden triggered a parity debate courtesy of its design that used lighter composite panels meaning ballast could be placed lower in the car to meet weight figures.
It resulted in Ford and Nissan teams being allowed to replaced their steel panels with composites from the second round of the championship at Albert Park 12 months ago.
"This probably should have been looked at or done before the Commodore came on the program with all carbon panels at the start of last year and it certainly should have been done before the Mustang hit the track just like the aero was done," he added.
"Good on the category for getting onto it, and eventually doing something about it."