Former Supercars boss to assist TCR Aus, S5000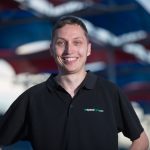 Former Supercars boss James Warburton has returned to the motorsport arena by taking up a non executive director role with TCR Australia and S5000 promoters the Australian Racing Group (ARG).
The media, marketing and advertising executive has been enlisted to join ARG to assist the group in growing its new two litre touring car category TCR Australia and single seater series S5000, which are both due to launch in May.
Still a Supercars minority shareholder, Warburton will represent ARG shareholders and is expected to help broker advertising and marketing deals for TCR Australia and S5000 in what will be a part-time role.
"I'm excited about getting involved with ARG as it brings together my passion for motorsport, media, events and business," said Warburton, who has just set up a consultancy firm.
"The TCR Australia Series, in particular, is dynamic as well as being market and manufacturer relevant.
"It is targeted to a growing demographic and features cars people are buying and driving on a global basis. The Board of ARG is a very experienced and capable team and I look forward to working with them and assisting the business with executing its plans for growth and other commercial matters."
Warburton is set to bring a wealth of experience to the group having led Supercars through a challenging period from 2013 until 2017, which saw him deliver lucrative broadcast, sponsorship and funding deals.
He has also held senior leadership roles at media buying company Universal McCann, the diverse media organisation Seven Media Group, the television company Network 10 and the outdoor advertising group APN Outdoor, which he joined after leaving Supercars.
Warburton will join the ARG board alongside former Wilson Security boss John McMellan (Executive Chairman) and PAYCE Consolidated chief financial officer Brian Bailison (Director and Company Secretary).
The trio will operate alongside ARG director and former Supercars managing director Matt Braid.
ARG Executive Chairman, McMellan, who worked with Warburton on the Super5000 project in 2017, added: "It is very pleasing to have someone of the profile, experience and capability of James join the ARG Board.
"His appointment endorses the future plans for the business and James will be integral in assisting and guiding the delivery of those plans over the coming years.
"ARG currently has two new to market categories. The experience and skills that James brings will ensure we deliver a great product that is sustainable commercially and market relevant."
Six manufacturers are set to be represented on the TCR Australia grid across 12 cars so far, with Renault the latest to join Alfa Romeo, Audi, Hyundai, Honda and Volkswagen.
Meanwhile, the first batch of the V8 powered S5000 single seater chassis have arrived in Australia and are currently being assembled by series technical partner Garry Rogers Motorsport.
Sydney Motorsport Park is set to host the opening round for TCR Australia and S5000 from May 17-19, with the former to have all seven rounds shown live on free-to-air television network SBS.