Holdsworth: Mustang requires driving style re-program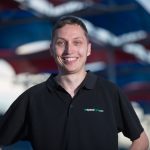 Lee Holdsworth says he is having to re-program his driving style to adjust to the new Tickford Racing Ford Mustang. 
Holdsworth has returned to Ford machinery for the first time since 2012 this season following his move to Tickford.
Having driven a Holden Commodore for the last four campaigns, adapting to the Mustang has provided a new challenge which has prompted the new Tickford recruit to tweak his driving style to unlock the potential from the car.
The 36-year-old, who is 13th in the standings behind his team-mates, believes he is making progress, but admits its is a slow process.
Holdsworth equalled his best result of the season to date in Race 6 with a ninth placed finish.
"The way that Tickford have developed their cars over time has been developed around a certain driving style and that's very different to the way that my natural style is," Holdsworth told Speedcafe.com.
"In a race situation I've got the pace, I've got the pace in a practice situation, I've got the pace, but when it comes to the green tyre run, you sort of slip back into that natural driving style. 
"I've got to re-program a little bit, and no doubt, over time that'll become more and more natural to me. 
"I think Tickford are doing a fantastic job with the balance in the car and in all areas – their pit stops, their car performance.
"I feel that the atmosphere and the environment there is one that I haven't experienced before. 
"It's an amazing place to be and I suppose that's reflecting in the performance on track, certainly by Chaz and by Cam and by Will. 
"I know the potential is there for me to get the same results. 
"It's a slow process, when you've been driving a certain way for so long and when you try and re-program. 
"I feel like I made huge gains over that weekend at Albert Park and I know I'll continue to make gains through the year."
Holdsworth admits the start to the season has been a little frustrating and mentally challenging knowing he is yet to truly match the pace of the Mustang. 
Team-mates Chaz Mostert, Will Davison and Cam Waters sit third, fourth and ninth respectively in the championship but the trio are all much more familiar with Tickford cars.
"It's funny because last year we would have been jumping up and down, up and down, in this position," he added.
"This year it's disappointing because it's all relative because you know where the car can be and then you look at the race pace and know you can run top three.
"It's very tough (to not lapse into my natural driving style).
"I've got a fairly aggressive driving style in the way that I ply the steering lock so just working on that area is the focus at the moment and the other drivers are very good at that. 
"They've been in these cars for a long time and been in this game for a long time. When you're not driving to your natural style, your way is going to cost yourself a tenth or two around the track and that's what how we feel at the moment."
Holdsworth will return to the wheel of the #5 Bottle-O Racing Mustang at the Tyrepower Tasmania SuperSprint from April 5-7.