Eaton tests newly resurfaced Barbagallo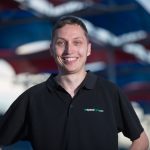 Abbie Eaton has completed a test at the newly resurfaced Barbagallo Raceway as work continues to secure a second Super2 Series outing.
Eaton logged 40 laps around the Perth circuit aboard a Radical SR3 sportscar prepared by motorsport experience company Arise Racing.
The driver, famous for her role on Amazon Prime show The Grand Tour, headed to the facility to learn the track which will host the second round of the Super2 Series at the Pirtek Perth SuperNight from May 2-4.
As a result she has become one of the few to experience the circuit's new surface which was laid during the off season.
"I mean, driving a Radical, it's completely different to driving a Supercar around there," Eaton told Speedcafe.com.
"But I just wanted to have a little bit of experience before the next round if we do end up doing it.
"It's put me in a bit of a better place, because even though it's quite a short lap it's quite a technical track.
"Everyone's kind of said that Barbagallo's known for not having much grip and having sand sitting on the surface and tyre deg being a big part of the Supercar race.
"They've not run that many meetings on it so far.
"But apparently a couple of weeks ago they ran more and the lap times were much faster as is the norm with a new surface.
"It was nice to be back on a circuit that I'm probably more used to driving.
"But it is a tight, twisty little circuit. Obviously it's quite a short lap but there are a couple of the corners, you've really got to be patient on to string a lap time together."
The outing arrived after a challenging and difficult Super2 race debut at Adelaide which saw Eaton, driving for Matt Stone Racing, race on a street circuit for the first time in the 27-year-old's career.
Eaton, who intends to compete the full Super2 season, is yet to secure drive for Perth.
Speedcafe.com understands talks are ongoing with several teams.
"I think a lot of drivers, some are more strong towards the street circuits, and some are stronger on the race circuits as well," Eaton added.
"I wouldn't mind jumping in and seeing what I can do at something that's a little bit more familiar to me. 
"We'll see what happens. I'm not giving up yet."
Great day at Barbagallo Raceway courtesy of @AriseRacing.

First time at Barbagallo and first time in a Radical.

Head to https://t.co/SUHa561IEm for info on Corporate days, Passenger laps, Arrive & Drive, Driver coaching and more.

Catering from Novice to Expert! pic.twitter.com/WXhkHtDTdn

— Abbie Eaton (@AbbieEaton44) 18 March 2019