Stanaway labels disqualification, $10k fine 'pretty harsh'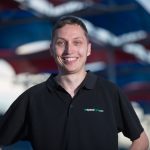 Richie Stanaway has described a disqualification from Race 5 and a $10,000 fine for a clash with Lee Holdsworth at the Beaurepaires Melbourne 400 as 'pretty harsh'.
Stewards charged the Boost Mobile Racing driver with Dangerous Driving after making contact with Holdsworth's Tickford Mustang through Turns 4 and 5 early in Race 5.
The incident followed contact between the pair on the opening lap which Stanaway claimed damaged his steering.
Stanaway was also penalised five seconds for a clash with Holdsworth in Race 4 prior to the exchange on Saturday evening. 
The Race 5 clash prompted an angry Holdsworth to label his rival an 'absolute imbecile'.
Stanaway has accepted the stewards sanctions that saw the Kiwi removed from 17th position, fined ($5,000 suspended), and forced to start Race 6 from pit lane, but feels the punishment was harsh.
"It seems pretty harsh but it is what it is," Stanaway told Speedcafe.com.
Stanaway told Speedcafe.com that the penalty hasn't knocked his confidence and will maintain his driving style.
The former Tickford Racing driver score results of 17th, 21st and 20th as he continues to adjust to the Holden ZB Commodore in what is his second season in the category.
"It has been a tough weekend obviously but it's ok we will just keep working hard at it," he said.
"I've got a great team behind me so I'm sure we can just keep chipping away at it and get better and better."
Boost Mobile Racing boss Garry Rogers felt his driver didn't overstep the mark at Albert Park.
"Look, it's about racing, and we don't need processional activity but we don't need a whole lot of bash and crash either, but the fact of the matter is this category is so tight, so close, you watch every reasonable move that a pass takes, there's a slight tap, bit of movement, so you get a crack at it," said Rogers on Fox Sports.
"Now that's how the racing needs to be because you won't ever pass anyone if you don't allow that sort of activity to take place. 
"But I'm totally against all this line up, drive 'em into the wall type stuff, but seriously, we need to understand what people go and fill those stands and watch the television screens (for).
"They want to see a race, and we need to get some serious racers back into this racing category."
Stanaway is lying 23rd in the championship standings after the Beaurepaires Melbourne 400.