Ricciardo 50-50 on future Bathurst Supercar outing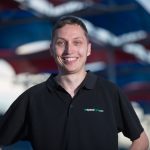 Daniel Ricciardo has refused to rule out a possible Supercars outing at Bathurst once his Formula 1 career is over after enjoying a run in Rick Kelly's Nissan Altima.
The Renault F1 star has been a long-time admirer of Supercars having watched the category growing up in Perth before climbing the single seater ranks to F1.
Prior to last weekend's Australian Grand Prix the seven-time F1 race winner sampled a race specification Supercar for the first time with a run in Kelly's Castrol-backed Nissan at Calder Park.
Although initially intimidated by the car Ricciardo loved the experience, describing the moment as a 'big deal'.
While focussed on his F1 career, he admitted he could be persuaded to race a Supercar in the future, rating the chances of him doing it as 50-50.
Ricciardo is not the only multiple F1 race winner keen for a Supercars drive following the revelation that two-time world champion Fernando Alonso is eyeing a wildcard run at the Supercheap Auto Bathurst 1000.
"I got asked not long ago 'after F1 would you want to do some races, do something else like V8s or NASCAR or Le Mans?" said Ricciardo when asked if he was keen for a Supercheap Auto Bathurst 1000 drive.
"At first, when I first got into F1 a few years ago, I was like 'yeah, that'd be awesome, I'd love to'. 
"But the more years I do this, it kind of wears you out. And I thought 'once I'm done, I think I'll be done'. 
"I'm probably kidding myself, because driving that Supercar, it would be pretty cool. I'll never say never. I'd give it a good 50-50 at the moment."
Driving a Supercar presented new challenges for Ricciardo to master although Kelly, who oversaw the Calder Park test, was impressed and believes Renault F1's new recruit could quickly adapt to Supercars racing.   
"I wouldn't say I got up to speed, but it took me a few laps to figure it out," said Ricciardo of driving the Supercar compared to his F1 machine.
"When you've got so much aero you can brake right into the corner and then pick up the throttle early. There's not much rolling time. 
"But here, there's a lot more rolling time here. It's more in steps; you brake, ease off, roll, pick up the throttle. 
"It's more delicate, in a way. Just picking some apexes with all of the roll cage and all that. I couldn't see much. I could see more out the front compared to an F1 car, but out the side it was trickier."
Ricciardo will now focus on heading to Bahrain for the second round for the F1 season after a 'flat' opener at Albert Park that saw him retire due to damage caused in an opening lap incident. 
CLICK HERE to watch an onboard lap as Ricciardo tackles Calder Park.