No excuses for AGP mechanical issues for SVG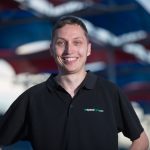 Triple Eight is at a loss to explain the spate of mechanical dramas that afflicted Shane van Gisbergen during a 'horror weekend' at the Beaurepaires Melbourne 400.
The 2016 Supercars champion dropped from second to 11th in the standings after an eventful run across the four races at Albert Park which were affected by issues out of van Gisbergen's control.
Van Gisbergen found himself on the back foot from opening practice when he was restricted to one timed lap after splitter mix up led to the team mistakenly fitting a damaged front bar to the car.
A catastrophic engine failure struck the #97 car in Race 3 while running fourth, before coming home 10th in Race 4.
The Kiwi was on course for another top 10 finish in Race 5 when the right rear wheel came loose from his ZB Commodore late in the race leaving him down in 21st position. The team copped a $5,000 fine and the loss of 30 teams' championship points as a result.
Van Gisbergen was then involved in contact with Shell V-Power Racing's Fabian Coulthard after suffering a big lock up at Turn 13 while disputing over sixth spot. 
Stewards handed the New Zealander a 15 second penalty for the clash which dropped him to 22nd after the chequered flag.      
Team manager Mark Dutton admitted the was no excuse for the splitter mix-up, engine failure and loose wheel issue and intends to ensure there is no repeat in the future.
"There's no good reason for them (the issues on car #97)," Dutton told Speedcafe.com. 
"It's not like we've been working crazy hours at the track or things haven't been going smoothly. 
"Everything has been going really smoothly, everyone has been doing their checks and double checks, etcetera. 
"That's not an excuse or the end of it, we need to understand and make sure we improve so that they don't happen anymore."
While the engine failure was unusual, Dutton confirmed that component failure was not to blame for the loose wheel in Race 5.
"There is nothing evident of component failure," he added. 
"The wheel that departed company we can only assume that it just wasn't tight enough. It must have picked up a bit when going on. 
"Looking at it, it looks like it goes on fine but clearly it didn't as it came off. Looking at all the components they seem fine as well.   
"It is an unfortunate one as the wheel guy on that corner has been training really hard and has been doing great stops. 
"He is pretty gutted as is the team but we are a team and we need to make sure improve our systems to make sure it doesn't happen again."
While van Gisbergen suffered a trying weekend, team-mate Jamie Whincup has moved up to second in the standings after recording finishes of eighth, fourth, second and third from the four races.  
The squad will head to Symmons Plains, which has been a Triple Eight stronghold in the past, for the third round of the championship from April 5-7.