Mostert battled sickness to claim Larry Perkins Trophy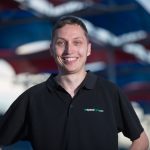 Chaz Mostert has revealed that he was battling a sickness bug on his way to taking out the Larry Perkins Trophy at the Beaurepaires Melbourne 400.
The Tickford Racing driver produced an impressive display across all four races at Albert Park despite admitting to feeling 'sick in his stomach' during's Sunday's finale.
Mostert finished the quartet of races inside the top five claiming three podiums including a win on Saturday, which saw him become the second winner of the Larry Perkins Trophy, following Jamie Whincup's 2018 triumph.
The award was introduced at last year's Albert Park meeting rewarding the driver that claims the most points across the Australian Formula 1 Grand Prix weekend.
Mostert revealed he had been struggling with illness since Adelaide and is keen to head back to his Gold Coast home to rest up before joining up with BMW for the California 8 Hours at Laguna Seca later this month.
"I've been a little bit crook since Adelaide but this weekend's been a bit of a struggle," said Mostert.
"I'm really lucky that this weekend's races have been quite short. You just get out of the car feeling really crook.
"The last race, I felt a bit sick in my stomach and it's more just struggling with a general cold.
"I don't know what it's turned into now, but I need to go home now and rest up before I go to Laguna Seca." 
Illness aside, Mostert labelled his Larry Perkins Trophy success as 'pretty special' which will add to his 2014 Supercheap Auto Bathurst 1000 and 2017 Pirtek Enduro Cup honours. 
"The last couple of years we've added a couple of cool trophies, with the Pirtek Enduro Cup and this one here, the Larry Perkins Trophy," added Mostert.
"It's pretty special to be able to get your name on a trophy that's hopefully going to stay for many years of the sport.
"You always think it's pretty cool when in 20, 30 years time you're watching Supercars and these other new whippersnappers coming through, (and saying) 'gee, you're that Chaz Mostert, or Jamie Whincup, a bloke that's got his name on the trophy I've just won'.
"It'd be pretty cool to be part of the heritage of the sport."
Mostert has now climbed to third in the Supercars Championship standings behind leader Scott McLaughlin and Whincup.