Calls for Supercars to regulate centre of gravity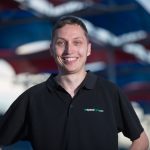 Rival Supercars teams have suggested the category should draw up regulations around centre of gravity if a test proves disparity between models.
The championship is set to conduct an investigation into centre of gravity amid claims that the new-for-2019 Ford Mustang that has taken victory in the six races to date has an advantage in that department.
As revealed by Speedcafe.com, approximately 10 cars spread across Holden, Ford and Nissan teams will undergo centre of gravity tests at Kelly Racing's Braeside workshop today to see if there is a difference between the marques.
Centre of gravity was brought into the spotlight last year when the Holden ZB Commodore burst onto the scene with increased use of composite panels, which resulted in a lighter car and the opportunity to move ballast lower in the car to reach the minimum weight.
Reducing the centre of gravity in a race car improves handling and this can be achieved be smartly ballasting a car by keeping weight as low as possible in the chassis to meet Supercars' minimum weight figure of 1395kg. 
Currently there is no rule governing the centre of gravity but rival teams believe stipulations should be put in place now the sport has welcomed in a two-door coupe for the first time with the Mustang.
"Well it's such a critical thing to a race car or any performance vehicle so there really has to be (a stipulation) now, and if there is a difference, we'll find out," Erebus Motorsport CEO Barry Ryan told Speedcafe.com.
"If there's not, well it doesn't matter but with a two-door car now, everybody's new to it, so it's something that probably should have been done proactively, not reactively, but unfortunately, (head of motorsport) Adrian (Burgess) and (motorsport technical manager) Campbell (Little) have been thrown a bit of dirty water and they're trying to clean it."
It is a view shared by Matt Stone Racing, whose owner believes guidelines on centre of gravity are necessary to maintain parity.  
"Look I think there are clearly areas where this sort of scrutiny needs to be placed and I think they're a good, smart bunch at Supercars and they're obviously focusing on making sure that it is as fair and equal as it can be, so I think it's all good news," Matt Stone told Speedcafe.com.
"I think now that there are two-door models allowed that have quite substantially less internal bodywork and manufacturer panels, and obviously the Mustang utilises – because of the nature of fitting it on this chassis – virtually none of the original panel work. 
"I think these (stipulations) are definitely necessary because all the other models currently competing utilise standard internal panel work, which is heavy steel componentry, so I think finding a way to balance that without forcing all of the other models to rapidly redevelop is the right process."
Kelly Racing team manager Scott Sinclair has welcomed Supercars' decision to carry out the test at its facility.
"Absolutely, it's one of those things in a category this tight, it's (centre of gravity) another thing we need to look at," Sinclair told Speedcafe.com.
Supercars head of motorsport Burgess has stated that the category is focussed on ensuring equitable racing and will make changes if necessary.