Stanaway cops $10,000 fine, disqualified from Race 5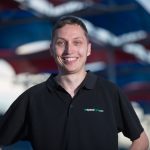 Richie Stanaway has been hit with a $10,000 fine and disqualification from Race 5 following contact with Lee Holdsworth.
The Garry Rogers Motorsport driver made contact with Holdsworth's Tickford Ford Mustang at Turns 4 and 5 early in the 25 lap heat at Albert Park which sparked a confrontation between the drivers in the pits post-race.
A furious Holdsworth labelled Stanaway an 'imbecile' while the New Zealander, who previously raced for Tickford Racing, shrugged off the incident when speaking to Speedcafe.com. 
Stewards investigated the incident which has resulted in Stanaway being removed from the results having finished in 17th position.  
The stewards summary has confirmed that $5,000 of the fine is suspended until the end of the year.
GRM requested that alleged contact from Holdsworth on the opening lap be investigated, but that has resulted in no breach of rules.
The sanction arrives after Stanaway copped a five second penalty following Race 4 for contact with Holdsworth.
Stanaway will also start Race 6 from pit lane as a result of the stewards decision.
The stewards report reads: "On Sunday 17 March 2019 the Stewards, having summonsed the Authorised Representatives and Drivers of Car #33, Richie Stanaway, and Car #5, Lee Holdsworth, conducted a Hearing to consider a Charge of a breach of Article 2.1.3 of Schedule B2 Code of Driving Conduct (Dangerous Driving) by the Driver of Car #33 in Race 5 involving contact with Car #5 at Turns 4 and 5 on Lap 3. The Stewards found the breach established and imposed the following Penalty:
Car #33 is Disqualified from Race 5;
Car #33 is Relegated to start Race 6 from Pit Lane;
A Fine of $10,000 is imposed on the Driver of Car #33, of which $5,000 is suspended until 31 December 2019. The suspension is to be revoked in the event that the Driver of Car #33 commits any further breach of Article 2.1.3 of Schedule B2 prior to 31 December 2019.
Meanwhile, Triple Eight has copped a $5,000 fine and loss of 30 teams' championship points after the right rear wheel departed Shane van Gisbergen's car.
Milwaukee Racing's Will Davison has been issued a five second post race penalty for failing to leave racing room for James Golding at Turn 3 on lap 3.
Davison drops from seventh to 10th in the results.
Speedcafe.com understands that no further action has been taken regarding the out lap incident between Scott McLaughlin and Cam Waters.
Results: Race 5, Beaurepaires Melbourne 400 Updated
| | | | | | | |
| --- | --- | --- | --- | --- | --- | --- |
| Pos | Num | Team/Sponsor | Driver | Car | Laps | Race time |
| 1 | 55 | Supercheap Auto Racing | Chaz Mostert | Ford Mustang GT | 25 | 51:50.0007 |
| 2 | 88 | Red Bull Holden Racing Team | Jamie Whincup | Holden Commodore ZB | 25 | 51:51.2119 |
| 3 | 14 | Freightliner Racing | Tim Slade | Holden Commodore ZB | 25 | 51:51.9083 |
| 4 | 9 | Penrite Racing | David Reynolds | Holden Commodore ZB | 25 | 51:52.3888 |
| 5 | 12 | Shell V-Power Racing Team | Fabian Coulthard | Ford Mustang GT | 25 | 51:53.6417 |
| 6 | 2 | Mobil 1 MEGA Racing | Scott Pye | Holden Commodore ZB | 25 | 51:54.8955 |
| 7 | 22 | Mobil 1 MEGA Racing | James Courtney | Holden Commodore ZB | 25 | 51:58.6584 |
| 8 | 8 | Freightliner Racing | Nick Percat | Holden Commodore ZB | 25 | 51:59.4935 |
| 9 | 7 | Plus Fitness Racing | Andre Heimgartner | Nissan Altima | 25 | 51:59.9828 |
| 10 | 23 | Milwaukee Racing | Will Davison | Ford Mustang GT | 25 | 52:00.2706 |
| 11 | 99 | Penrite Racing | Anton de Pasquale | Holden Commodore ZB | 25 | 52:00.3050 |
| 12 | 5 | The Bottle-O Racing Team | Lee Holdsworth | Ford Mustang GT | 25 | 52:00.6853 |
| 13 | 18 | Irwin Racing | Mark Winterbottom | Holden Commodore ZB | 25 | 52:00.8532 |
| 14 | 35 | Bigmate Racing | Todd Hazelwood | Holden Commodore ZB | 25 | 52:01.3713 |
| 15 | 19 | Truck Assist TEKNO Racing | Jack Le Brocq | Holden Commodore ZB | 25 | 52:02.2335 |
| 16 | 15 | Castrol Racing | Rick Kelly | Nissan Altima | 25 | 52:02.5775 |
| 17 | 78 | Team Harvey Norman | Simona De Silvestro | Nissan Altima | 25 | 52:02.9286 |
| 18 | 34 | Boost Mobile Racing | James Golding | Holden Commodore ZB | 25 | 52:03.6940 |
| 19 | 3 | RABBLE.club Racing | Garry Jacobson | Nissan Altima | 25 | 52:06.1478 |
| 20 | 21 | Team CoolDrive | Macauley Jones | Holden Commodore ZB | 25 | 52:06.7502 |
| 21 | 97 | Red Bull Holden Racing Team | Shane van Gisbergen | Holden Commodore ZB | 23 | 52:10.3606 |
| DNS | 17 | Shell V-Power Racing Team | Scott McLaughlin | Ford Mustang GT | | |
| DNS | 6 | Monster Energy Racing Team | Cameron Waters | Ford Mustang GT | | |
| DSQ | 33 | Boost Mobile Racing | Richie Stanaway | Holden Commodore ZB | | |